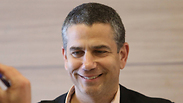 MK Yinon Magal. (Photo: Gil Yohanan)
Bayit Yehudi MK Yinon Magal was in the eye of a public storm on Tuesday as accusations arose from different women who used to work with him that he sexually harassed them.

The alleged harassment took place, according to the accusers, when Magal served as the editor of highly popular Israeli news site Walla.

Minister of Social Equality Gila Gamliel, of the Likud party, called for the start of a criminal investigation against Magal.

"We cannot let this pass by. The claims against Yinon Magal must be investigated thoroughly," said Gamliel. She added that "Women in Israel must go to work, and everywhere, without fearing harassment. The state has to protect that basic right. If there is truth in these matters we must open a criminal investigation and suspend MK Magal from the Knesset."

Bayit Yehudi leader, Education Minister Naftali Bennett, called Magal over for a one-on-one meeting. Meanwhile, MK Yoel Hasson (Zionist Union) announced that he would be boycotting a Tuesday evening event at Tel Aviv University, due to Magal's expected involvement.

The criticism is also coming from inside party ranks: Yehudit Shilat, founder of the Takana forum for the prevention of sexual harassment, who was a Bayit Yehudi candidate for the Knesset (but was not positioned in a realistically electable spot) has called for Magal's removal from the position of Bayit Yehudi Knesset faction leader.

In a post published today, journalist Racheli Rottner of Walla described an event that occurred during Magal's goodbye party from Walla. According to Rottner, Magal told her at the party that he was aroused by her during their time working together, specifically mentioning that he thought about her breasts and buttocks and talked about them with others.

A short time after that, Or Shukrun. Another former Walla employee, published a post in which she claimed MK Magal harassed her. Shukrun claimed that Magal touched her buttocks several times, ignoring her requests that he stop, and that he asked her several harassing questions, such as whether she would like to join him in the bathroom stall.

Magal published an apology, saying, "First of all I'd like to apologize – there are things that were said between friends before I became an MK and I wouldn't repeat them today, I ask for the forgiveness of anyone who was hurt. Having said that, I'd expect a friend who was hurt to tell me so and not turn to social media shaming."

Attila Somfalvi, Kobi Nachshoni, Ido Rosen, and Yossi Fisher contributed to this report.