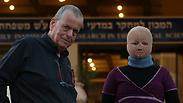 Prof. Aaron Ciechanover and Ayala Shapira
Less than a year ago Ayala Shapira, 12, was seriously burned after a Molotov cocktail was thrown at the car she was traveling in with her father on their way home in the West Bank. Ayala, who was classified a child prodigy and studied in a gifted students' program at Bar Ilan University, asked to interview a scientist and was delighted to discover that she would meet the Nobel Laureate in Chemistry, Prof. Aaron Ciechanover.

The emotional meeting took place in Ciechanover's laboratory in the Faculty of Medicine's building at the Technion – Israel Institute of Technology in Haifa. This is what she wrote:

When I got to interview the Nobel Prize winner in Chemistry I expected to see an honorable man, perhaps in a suit. I was surprised when a likeable man walked in wearing jeans, with dozens of car models made of wood lying on his desk. He was as energetic and enthusiastic as a child.

What exactly is biochemistry?

"Biochemistry is the science of life. All our life processes - walking, talking, moving, feeding - are essentially chemical reactions. So biochemistry is actually the chemistry of life, and it's supremely interesting."

What drew you to the field?

"The understanding of the secrets of nature. It really interested me so I studied medicine, but in medicine you mainly take care of people, and I wanted to understand the mechanism, the secrets behind the machine. So I decided to study biochemistry, and I do not regret it. To develop drugs for people we basically dismantle the system. In the lab we look at things the size of a cell or two. We dismantle life into very small models."

Prof. Ciechanover patiently answered my questions. I tell him that I also love technology and science and mathematics, and am very interested in learning and research. I reveal to him that every time a device breaks down at home I ask to take it apart and see how it is built and how it works.

After the interview we went to the beach at the Bay of Haifa. "From here you can see the view to Rosh Hanikra," he said, pointing to the horizon. Back at the lab he showed me a model of the molecule for which he won the Nobel Prize.

You were awarded a Nobel Prize for the discovery of the protein ubiquitin. What is it exactly?

"We discovered a mechanism which is like the garbage machine of the body. We need to remove damaged proteins and create new ones in their place, and we discovered the machine that does this. This machine is very important because if it ceases to operate we would get diseases such as Alzheimer's, Parkinson's disease, and cancers of all kinds."

Towards the end of our meeting Ciechanover asked me what I want to be when I grew up, and was surprised when I said I wanted to be a writer. He asked why I was so specifically interested in science. I responded that I'm interested in many fields, science being just one of them.

"The important thing is to do what you most love in the best way," he advised me. "If you love literature, you could be a great writer, and perhaps one day become a Nobel Prize Laureate for Literature."