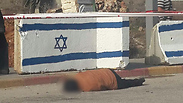 The Tapuach junction attack after being neutralized
A Palestinian was shot dead after trying to stab soldiers at the Tapuach junction on Thursday morning.
Samer Seresi, 51, arrived at the major intersection in the Samaria region by car, and pulled over near a Border Police post. He then exited his car and ran at the troops while brandishing a knife. The troops, who spotted him, opened fire and killed him.
None of the soldiers were hurt in the incident.
In the village of Qattana near Ramallah, a Palestinian was killed in clashes with IDF troops during an overnight raid. The Palestinian health ministry identified him as 21-year-old Yehya Taha, and said he was shot in the head.
The IDF said Taha threw a Molotov cocktail at troops during the clashes, which led forces to shoot him.
According to the Palestinians, Taha is the 100th Palestinian to be killed in the current ongoing wave of violence.
The IDF arrested 20 wanted Palestinian in the West Bank overnight, 13 of them are suspected of being involved in terror activity and violent rioting.
In an effort to quell the violence, Defense Minister Moshe Ya'alon announced Wednesday that Israel will build a fortified fence near Hebron, a southern West Bank city that has been a flashpoint in the current unrest. He said the fence would fill in a gap in the barrier Israel began building in the early 2000s in response to Palestinian attacks.
Yaalon told MKs that construction of the fence will take a year. The fence will have similar technology as the recently constructed Israeli fence on the Egyptian frontier meant to deter infiltration of militants or migrants seeking asylum.
Also Thursday, IDF troops seized eight public transportation buses in the West Bank city of Nablus, according to drivers at the Al-Tamimi company. The IDF said the buses were intended to ferry Palestinians to checkpoints for demonstrations, that regularly turn violent. Most Palestinian clashes with Israeli troops occur at checkpoints spread throughout the West Bank.
The Associated Press contributed this story.