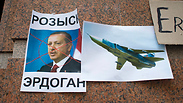 Tensions between Russia and Turkey continue to mount as Moscow announced this week that it would stop importing vegetables from Ankara, listing Israel as a possible alternative.
Russian President Vladimir Putin recently ended security cooperation with Ankara and asked Russian citizens to avoid visiting Turkey, but the Russian president seems to want to punish Turkey even more for downing a Russian combat jet two days ago.
On Wednesday, Minister of Agriculture Alexander Tkachev said that Russia may substitute imports of vegetables from Turkey with those supplied from Iran, Israel, and Morocco due to a "breach in sanitary regulations."
The Turkish Daily Sabah newspaper reported that Russia had recently stopped importing Turkish goods.
Adnan Dalgahran, a member of the Turkish Exporters Association, told the Daily Sabah that the Russian customs authorities had refused to receive Turkish goods, providing a variety of excuses.
Russia's secret weapon – food boycotts
"Turkish vegetables account for 20 percent of the total Russian imports of vegetables. Import of vegetables, tomatoes in the first place, will be substituted with those from Iran, Morocco, Israel, Azerbaijan, Uzbekistan," the minister said, adding that Turkey supplies more than 360,000 tons, of tomatoes to Russia.

"Turkey imports about 250,000 tons of citrus fruits, a quarter of the total citrus imported into Russia," he said. "We can replace citrus imports by supplies from South Africa, Morocco, China, Argentina, Israel, Abkhazia, Georgia," the head of the Agriculture Ministry concluded.

According to the data provided by the ministry, in 2014, Turkish imports of food and agricultural products to Russia stood at $1.7 billion, which is in line with the previous year. Turkey accounted for four percent of Russia's total food imports.

Russia has previously banned Western food imports after the fallout and sanctions that followed the crises in Crimea, and the Russian involvement in eastern Ukraine.

Relations between Turkey and Israel, which is likely to be a major beneficiary of the new Russian arrangement, have been icy at best since the famed IDF raid killed 10 Turkish citizens on the Gaza-bound Mavi Maramara ship in 2010.

On Tuesday, a Su-24M frontline bomber of the Russian aviation group in Syria crashed in Syrian territory. The plane was downed by an air-to-air missile launched by a Turkish F-16 fighter.

Later on Tuesday, Russia's Foreign Ministry and the Federal Tourism Agency recommended Russian citizens refrain from traveling to Turkey due to security threats.