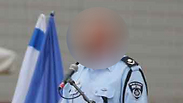 The officer
Photo: Motti Kimchi
The Police Investigations Unit questioned a high-ranked police officer for seven hours on Wednesday night over allegations he sexually harassed a policewoman five years ago.

The officer, a major-general, has gone on a forced week-long hiatus, during which he is forbidden from contacting anyone involved in the investigation.

He vehemently denied the claims attributed to him, according to which he made comments that were sexual in nature and tried to kiss a female police officer during an event they both attended five years ago.

This officer has been involved in the investigation of several criminal cases against high-ranked police officers, including some that deal with sex crimes.

In recent years, more and more senior police officers came under scrutiny in a series of cases that left the police's national headquarters nearly empty.

Deputy Commissioner Nissim Mor was fired in January after suspicions of sexual harassment, indecent acts, and sexual relations with female officers were raised against him.

Shortly after that, the head of the Judea and Samaria District, Maj.-Gen. Kobi Cohen, retired from the police after the Police Investigations Unit launched an investigation against him in which he admitted to having had an inappropriate relationship with an officer under his command.

Before him came the former head of the Jerusalem District, Maj.-Gen. Niso Shaham, who was accused of having sex with female officers under his command. He was dismissed from the force in October 2013 by then-public security minister Yitzhak Aharonovich, based on a recommendation from then-commissioner Yohanan Danino.

Another case involved former Lahav 433 commander Maj.-Gen. Menashe Arviv, who was accused by Rabbi Yoshiyahu Pinto (who was later convicted of corruption) of receiving illicit benefits. Arviv denied the allegations, but took a hiatus from the police and later retired from the force, claiming he was a victim of a delay of justice.

Maj.-Gen. Bruno Stein, the former commander of the Central District, also retired from the force after being photographed at a party hosted by attorney Ronel Fisher, who has been accused of bribing police officers so they would close his clients' cases.

Jerusalem District commander Maj.-Gen. Yossi Pariente retired from the force citing "personal reasons" after announcing he would not run for police commissioner. Later, claims emerged that the reasons behind his retirement were allegations of sexual harassment.

Another case involved the commander of the Coastal District, Maj.-Gen. Hagai Dotan, who in 2011 admitted to signing off on the closing of a case against him over a car accident he was involved in. Police investigators found that he was not guilty in the 2008 accident, but Dotan - instead of disqualifying himself - signed off on the closing of the case against him and on the recommendation to prosecute the driver who caused the accident.