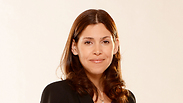 MK Karin Elharar
Photo: Yuval Chen
MK Elharar: Someone like Oren Hazan cannot be an MK
Karin Elharar doesn't forgive Oren Hazan, and doesn't plan on speaking to him again. In the first interview given since he mocked her for her disability, the MK tells us what Hazan said to her, calls for her fellow Knesset members to shun him, and explains that this insult is more than just personal.
"Oren Hazan walked up to me and said, 'I'm angry with you,'" says Yesh Atid MK Karin Elharar. "I told him, 'Oren, leave me alone. Please don't talk to me, get away from me.' He went to his seat, and started mocking me from there. He said 'Oh, look, she's voting on her own. She can vote on her own.' MK Shuli Mualem (Bayit Yehudi) talked to him, but he started to shout at her too, 'Shuli, sit in your corner.' Then he yelled at me, 'Karin, where's Issawi, you don't need him to vote for you anymore?'"

Hazan was referring to MK Issawi Frej (Meretz), who assisted MK Elharar in a previous vote, for which Elharar had requested and received permission.

Were you insulted?

"I've learned one thing in my life. I choose who to be insulted by. Oren Hazan doesn't insult me and doesn't hurt me. The only thing that insults me is that my name was in the same headline as his. He's not worthy and doesn't have values, and I expect the Knesset to denunciate him. I call on all MKs to simply shun this man. Don't support his bills, don't listen to his speeches. When he speaks, simply leave the assembly. Ever since he came to the Knesset this place has become totally crazy."

Did none of his insults bother you?

"Of course it gets through, and of course it's unpleasant. I'm not a robot. But in a situation like this, I know how to remind myself who I'm dealing with and who's making all the fuss. The question I've gotten used to asking is how I handle it and how I end up stronger. Mostly, it was sad to me that these things happen in Israel's parliament. It's not about me at all, but about disrespect for the institution."

Would you like to make peace with Hazan and put a close on things?

"The truth is I don't want to have any form of communication with him."

Elharar, who suffers from degenerative muscular disease and is bound to a wheelchair, has faced a few challenges in her life. But the insults from Hazan are something the Yesh Atid MK could never foresee. It all started last week, the night of the long voting marathon on the 2015-2015 state budget. During those long hours, the MKs had to vote over 400 times, using the electronic means in front of them. Elharar, whose disease sometimes makes it difficult for her to move her hands, asked the person sitting next to her, MK Issawi Frej of Meretz, to help her vote. He did so, with permission given long ago by Knesset Speaker Yuli Edelstein.

One of the journalists covering the vote saw that Frej was voting for Elharar, and uploaded a video of it to his Twitter account. That tweet probably touched a nerve for Hazan. His father, former MK Yehiel Hazan, is infamous for his involvement in a double-voting controversy, which ended in him being convicted of criminal charges.

Oren Hazan was affected by the video, published it on his Twitter page while the voting was ongoing, and threw some insults at Elharar and Frej. "He started going from one MK to the next with his cell phone, showing them the photo of Issawi voting for me and saying, 'Look, there's a double vote here. There's a double voter here,'" Elharar says. "It's not like I was at the other end of the hall and asked Issawi to vote for me because I couldn't reach my seat on time, we were right next to each other and he helped me."

Hazan, in his defense, claimed that he saw you handling your phone with your hands, and thus he thought you didn't have a problem voting yourself.

"Yes, I really did look at my phone. I plead guilty to the severe charges. I won't go into detail, but there are movements that are easier for me and there are those that are harder. And I certainly don't have to explain myself to Oren Hazan."
Missing Begin
Three days ago, before the vote on the amendment to the IDF draft law, came the second incident – the one that caused MK Elharar to demand that Hazan stay away from her. The faction and opposition members quickly embraced the embattled MK; her party's chairman, Yair Lapid, approached Knesset Speaker Yuli Edelstein and asked him to remove Hazan from the plenum, but the outspoken Likud MK stayed.

"In principle, I felt that I received adequate support from the Knesset in these two incidents," Elharar says. "The waves it made all over the media also surprised me quite a bit. But the response by the prime minister in particular, after the first incident, was a little shameful. He issued a statement where he said 'If the words were indeed said (by MK Hazan).' Netanyahu was in the plenum during the entire vote process and even came to me after the first commotion. During the second vote too, the one on equality of burden (the IDF draft law ammendment), you couldn't help but hear it. He knew things were being said. He heard them being said."

So what's the deal?

"I feel that the prime minister is trying to wink at Oren Hazan because he's the 61st vote (in his coalition). It's a really problematic situation, but I don't accept it. The prime minister needs to make an ethical statement, as should coalition chairman Tzachi Hanegbi. Oren Hazan can't do whatever he wants just because he's the 61st vote."

And what about the Knesset speaker?

"Yuli Edelstein made a brave move and didn't let Hazan manage Knesset assemblies after the Likud faction appointed him deputy speaker. He was one of the first people to stand up against the phenomenon that is Oren Hazan. The more the Israeli people can be spared airtime with Hazan, the better."

But Edelstein didn't remove Hazan from the plenum after your incident.

"I think that regardless of what happened with me in the Knesset, you can send a message to Hazan in a much clearer way and act against him in a more meaningful way. The thing is that it's not the Knesset speaker's responsibility. The one who has to show leadership here is Hazan's party chairman and our prime minister."

Is Netanyahu responsible for Hazan being an MK?

"Of course the prime minister has responsibility here. It's not the Likud I know. The Likud I know was a grand national party. A proud one. Today it's not the Likud of Menachem Begin and Dan Meridor and (Reuven) Rubi Rivlin. If I were a Likud voter, I'd be very ashamed of my party."

Do you expect Hazan to be disciplined?

"It's not about him being disciplined, it's way beyond that. That kind of person can't be an MK."

This is an embarrassing time for the Knesset. Hazan's behavior joins another controversy over accusations of sexual harassment leveled at Bayit Yehudi MK Yinon Magal. One storm follows another.

"The atmosphere in the Knesset isn't good at all, it's difficult," says Elharar. "A very bad wind blows through the halls. Don't get me wrong, it doesn't reflect on all of the MKs. Israel's Knesset has a vast majority of MKs who really come to work and make a difference. But unfortunately we only hear about those on the fringes, about one court jester named Oren Hazan. And in the end, because of Oren Hazan, the citizens of Israel think that what the members of the Knesset do all day is look out for themselves.

"When I think about how I define myself, I don't see myself as an MK first. First and foremost, I am a public representative. I represent an entire public of people with disabilities, and Oren Hazan has hurt that entire public. But I've already begun taking it towards good places."

How can you do that?

"Cases like this one can especially do a lot of good in raising awareness about people with disabilities. It's one of the things for which I came to the Knesset, improving awareness and promoting disabled people's rights. I strongly condemn Hazan's behavior, which is reprehensible, but especially because it happened this way, I am, for the first time, getting an opportunity to talk about a lot of things that I don't get an opportunity to talk about.

"On the other hand, it bothers me a bit that at the end of this entire thing, all of the headlines were about 'Disabled MK Karin Elharar.' I've been in the Knesset for three years, and have a lot of parliamentary work under my belt, proposing legislation, promoting the rights of disabled people, and in the end there are those who frame me as 'the poor disabled woman.' So there, I really don't see myself like that. I never have. Even as a child I realized I could achieve whatever I wanted. My physical disability has never prevented me of fighting on all the fronts I believe in and serving as a role model to anyone who wants to get somewhere and doesn't think they can."

The 38-years-old Elharar's professional résumé supports her statements about aspiring to always move forward. After completing her law degree in Israel, she went on to do a master's degree in the field in the US. Upon her return to Israel, she started a legal office to aid people with disabilities at the Bar-Ilan University. Two years later, she became the director overseeing all of the university's legal offices, was involved in hundreds of cases of aid, and later founded, along with students at the university, the Movement for Fighting Poverty in Israel.

After seeing her impressive résumé of legal activity, Lapid recruited Elharar to Yesh Atid. She was elected into the Knesset in 2013 and soon became a respected and valued parliamentarian. In the current term, she serves as the chairwoman of the Knesset's State Control Committee. In this role, Elharar led to the early release of the State Comptroller's report on the natural gas monopoly so the members of Knesset could review it before voting on the government's proposed natural gas plan. She also shed light on many of the details of the Comptroller's report on the biometric database, and is now dealing with the defense budget.

But the legislation that is closest to her heart is the Foster Care Law, which defines the rights and obligations of all parties involved in foster care and will soon be brought up for a second and third reading in the plenum.

"This is my flagship legislation," Elharar says. "It takes care of children who might possibly be the weakest part of society. One of the aides I had told me, 'Karin, I'm sorry to have to say this, but this is a boring bill.' I won't accept this. I choose the issue and then I tell my entire team, 'This is the issue, it deals with people's lives' and make everyone passionate about it. What I see in front of me, at the end of the day, is the citizens. That's why getting the State Control Committee this term was a huge gift. It deals with all government ministries, all of the different authorities, and this job really allows me to help people."
Hazan: I didn't mock Elharar
In response to this interview, Oren Hazan said: "The state of Israel is in the midst of one of the hardest times we have known, and the left wing, instead of uniting, is dealing with promoting unjustified hatred.
"I obtained a video of MK Frej who voted twice, once under his own name and once on behalf of the MK sitting to his right, while she was distracted from the vote. Any attempt to change the focus from the question over the legality of MK Frej's double voting to the issue of disability is irrelevant.
"Regarding the claims that I mocked MK Elharar, this is a blatant lie and a false claim that joins other blood libel the radical left wing is used to promoting. I did not and do not have any claims against MK Elharar and certainly not with regards to her condition. If anyone thinks that I - the brother of a disabled IDF veteran, who has aunts suffering from muscular dystrophy and are wheelchair-bound, while I myself also suffer from an issue that left me hospitalized for a long period of time - had any intention to hurt or offend MK Elharar or the public, they are mistaken. And still, if she, or anyone else, was offended by this or from me, I apologize.
"It is time for everyone to lower the flames a bit. The personal shaming done against me has been taken for granted, but I endure it and keep smiling."