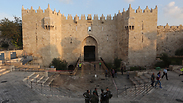 A terrorist stabbed and lightly wounded a woman at a bus stop in Jerusalem on Sunday morning. Security forces apprehended the suspect, a resident of the West Bank, after he fled the scene. Less than three hours earlier, a policeman was lightly wounded in a stabbing attack near Damascus Gate in Jerusalem's Old City.
According to police, "an initial investigation revealed that the woman was standing next to a bust stop on Shamgar Street, when a Palestinian man approached her and stabbed her in the back before fleeing the scene. The wounded woman was evacuated to Sha'are Tzedek hospital. Forces conducted a man hunt to find the assailant."
He was later apprehended at a construction site and tied himself to the attacks.
According to police, the suspect was a 17.5-year-old Palestinian, who tied himself to the attack. Two other Palestinians were detained for questioning by police.
Video: Hatzala (צילום: ירון שרון, יעל פרידסון ודוברות איחוד הצלה)
Policeman stabbed near Damascus Gate
David Turgeman, a paramedic with MDA, told Ynet, "When we arrived at the scene we saw a woman about 30 years of age with a knife wound to her upper body in the front seat of a bus. We provided her with initial care and transferred her from the bus to an ambulance."
Video: Gil Yochanan (צילום: חטיבת דובר המשטרה)
The assailant in the first attack on Sunday was later identified as a 38-year-old resident of the Nablus named Bassm Salah. According to police, "He had been walking from Damascus Gate towards Hagai Street when he noticed two border policemen who were patrolling together."
"He immediately pulled out a knife and ran at the officers while yelling "Allahu Akbar." He managed to stab one of the border policemen in his neck. The fighters reacted quickly, charging their weapons and firing and killing the attacker. A search of his body revealed an additional knife," the statement concluded.
The stabbing was the third attack to take place at the location in recent weeks.
MDA said it had received a call for a reported stabbing attack at 7:44 AM, and arrived at the scene to find a 20-year-old border policeman lightly-moderately wounded. MDA medics administered initial treatment and the policeman was later evacuated to Hadassah hospital at Jerusalem's Ein Karem.
Yehiel Shtern, a volunteer with Hatzala told ynet, "When I arrived at the scene, I saw a young man who with stab wounds to his upper body. Myself and the doctor who was volunteering with Hatzala administered initial medical treatment, and he was later evacuated to the hospital. Passersby said that the policemen returned fire towards the assailant near the location where Aharon Bennet and Nehimia Lavi were murdered. The terrorist was shot and killed.
Eight IDF soldiers were lightly-to-moderately wounded in two separate vehicular attacks in the West Bank on Friday.
Around 7:30am, two soldiers were lightly wounded in a vehicular attack near Ma'ale Adumim after a Palestinian attempted to run them over at a bus stop near the settlement.
At around 12:30pm, a Palestinian rammed his car into IDF troops at the entrance to the Beit Ummar refugee camp near Kiryat Arba, south of the Gush Etzion junction, wounding four moderately and one lightly. Several of the wounded were taken to Shaare Zedek Medical Center in Jerusalem.