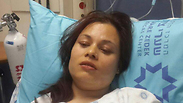 Hisorai Taplaya, 31, a foreign worker from Nepal, was stabbed by a Palestinian terrorist on Sunday morning while waiting at a bus stop on Shmagar street in Jerusalem.
"It was my day off, I went to Makor Baruch (a neighborhood in Jerusalem) and I was listening to music on my headphones," she told Ynet. According to her, "Someone came up from behind me and stabbed me in the back. I was scared; I saw blood all over my hand." Despite the injury, she plans on staying in Israel.
Taplaya, who is celebrating her birthday on Tuesday, said she didn't see anyone who could help her at that moment. "I crossed the street and found a bus driver, he helped me, put a towel on my wound and called an ambulance." At first she didn't understand that she had become the victim of a terror attack, "But I understood that it was a terror attack because I have been listening to the news lately." She wanted to thank the bus driver who helped her, and said, "I was scared recently because of what has been going on."
According to police, "An initial investigation of the attack revealed that the woman was standing next to a bust stop on Shamgar Street, when a Palestinian man approached her and stabbed her in the back before fleeing the scene. The wounded woman was evacuated to Sha'are Tzedek hospital. Forces conducted a man hunt to find the assailant."
He was later apprehended at a construction site and tied himself to the attacks.
According to police, the suspect was a 17.5-year-old Palestinian, who tied himself to the attack. Two other Palestinians were detained for questioning by police.
Earlier on Sunday A Palestinian man stabbed a border policeman near Damascus Gate. According to police, "He had been walking from Damascus Gate towards Hagai Street when he noticed two border policemen who were patrolling together."
"He immediately pulled out a knife and ran at the officers while yelling "Allahu Akbar." He managed to stab one of the border policemen in his neck. The fighters reacted quickly, charging their weapons and firing and killing the attacker. A search of his body revealed an additional knife," the statement concluded.
The assailant in the first attack on Sunday was later identified as a 38-year-old resident of the Nablus named Bassm Salah.