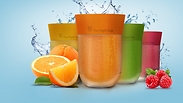 An Israeli company has developed The Right Cup, a liquid receptacle that gives out a fruity taste and smell, creating an illusion that tricks the brain into thinking that the beverage is flavored. The company emphasizes that nothing is added to the water in the cup – no preservatives, sugar, or calories of any kind.

A few days ago, the company opened a campaign on the popular crowdfunding site Indiegogo, where it has already raised over $100,000, even though its goal was a humble $50,000.

The Right Cup's developers say that it was designed to place the drinker's nose at its center, so that they would experience the full fruity scent, and taste a hint of fruity flavor.

The developers say that the combination of the two senses – smell and taste – create an illusion of drinking flavored water in the brain, while what's actually being swallowed is plain water.