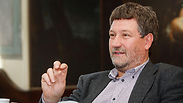 Szentgotthard Mayor Gabor Huszar
A mayor of a city in Hungary has accused Israel of being behind the terror attacks in Paris last month, but was quick to offer an apology after a recording of his comments was leaked to local media.

Speaking during a November 16 council meeting over the expansion of a nearby refugee camp, Szentgotthárd Mayor Gábor Huszár said: "Everyone should just take my word for it. What happened in Paris is clear evidence that certain business circles, dare I say business circles which are likely backed by the Jewish state, are trying to pit Christian Europe against the Muslims."

According to media in the country, Huszár was trying to placate concerns over the expansion of the refugee camp by arguing that the Muslim refugees were not to blame for the November 13 attack in the French capital that claimed the lives of 130 people.

Mayor Huszár is a member of Hungarian Prime Minister Viktor Orbán's ruling party. Orbán said after the events in Paris that "all the terrorists are basically migrants," and called on the European Union to "reevaluate what unites it, in light of the security challenges Europe has been facing in recent years."

Israel's Ambassador to Hungary, Ilan Mor, harshly condemned the mayor, saying his comments "again prove that there are those who have not learned from history and continue to propagate negative views and conspiracy theories against the Jewish state, Israel. Such statements have led to the great tragedy of Jews in Hungary. Unfortunately, these false and laughable statements were by a public figure, Szentgotthárd's mayor."

Following the release of the recording, Huszár apologized for his "unfortunate statement." In addition, the spokesman for the ruling Fidesz party said the mayor expressed a private opinion and that the party condemns all kinds of terrorism and believes ISIS is behind the terror attack in Paris.

Hungarian Foreign Ministry Péter Szijjártó said during a visit to Israel last month that Hungary is opposed to the decision to label products from the settlements.

"It's not effective and will not solve the Israeli-Palestinian conflict," Szijjártó said.