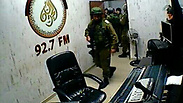 IDF raiding Al-Hurriya radion station in Hebron
The Palestinian security services circulated on Monday instructions to communications companies to stop working with Hamas' al-Aqsa TV and to no longer provide them services.

The Palestinian Authority is trying to curtail Hamas' television station in the West Bank. Al-Aqsa TV's staff and studios are located in the Gaza Strip.

The Palestinian security services' directive was given a day after a joint operation of the IDF, Shin Bet and the Civil Administration during which equipment and transmitters from Hebron's Radio Dream were confiscated.

The army stated that the operation was carried out following programs inciting hatred were broadcasted at the radio station.

Last weekend, the IDF closed the Palestinian radio station Radio Al-Khalil (Radio Hebron). It confiscated broadcasting equipment and issued a six-month closing order signed by the GOC Central Command, Maj.-Gen. Roni Numa.

Earlier this month, Israeli security forces raided the offices and studio of the Al-Hurriya radio station in Hebron. The IDF, in cooperation with the Civil Administration, confiscated technical equipment and the station's transmitters. In addition, a six-month closure order was issued to the station.