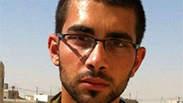 Almog Shiloni, who was stabbed to death by a Palestinian in Tel Aviv last year.
Prime Minister Benjamin Netanyahu has demanded rapid action on home demolitions for terrorists, but he is still being stonewalled by the courts.

The Supreme Court on Tuesday morning canceled the demolition order on the family home of Nur al-Din Abu Hashayeh, the Palestinian who stabbed soldier Almog Shiloni to death near a train station in south Tel Aviv in November 2014.

Abu Hashayeh was found guilty of pre-meditated murder. The judges ruled that the significant delay – 11 months between the attack and the decision to demolish the house – is unreasonable.

In their opinions on the decision, Judges Meni Mazuz and Zvi Zylbertal pointed to the fact that the rapid carrying out of orders such as these is central to fair and correct administration, and that such a long delay undermines the intended deterrent effect of the home demolitions.

Judge Zylbertal added, however, that demolishing terrorists' homes to act as a deterrent is a desirable and legitimate course of action.

The minority opinion was provided by Judge Elyakim Rubinstein, who was in favor of a partial demolition of the structure. Judge Rubinstein wrote that he believed a partial demolition weighed fairly between the amount of time that had passed between the event and the execution of the demolition order, and the need to create at least some deterrence.

Almog Shiloni's father, Yossef, was outraged at the decision not to demolish the home of his son's killer.

"The very minimum the state could have done is demolish the terrorist's house to calm us down a little," he said. "Nothing will bring back Almog, but it would've given us a little more heart."

Yossef complained that as the trial continues, the terrorist "is laughing in our face, yelling at court and humiliates us," and vowed to launch a public struggle calling to demolish the terrorist's house.

Abu Hashayeh claimed during his interrogation by the police that his intent to murder Shiloni came from a desire to end his own life. "I thought to myself that I want to put an end to my life and wondered how I wanted to die. Then the idea came to me to go and kill a soldier in the street.

"I showed him the knife so that he would kill me but he didn't do anything. After I saw that he wasn't doing anything to me I stabbed him," claimed Abu Hashayeh.

However an additional investigation by the Shin Bet found that he believed his death would grant him the status of a martyr.