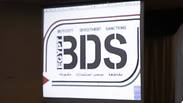 The members of the National Women's Studies Association (NWSA) have voted in favor of a proposal to join the anti-Israel Boycott, Divestment, and Sanctions (BDS) movement, the JTA news agency reported Tuesday.

The non-binding resolution was approved by an 88.4 percent margin, with 653 members voting for it and just 86 members against, at the association's annual membership assembly.

The NWSA resolution will be voted on by the association's 12,000 members in the next two months. If it passes among the full membership, it will make the NWSA the largest organization yet to propose an academic boycott of Israel.

"As feminist activists, scholars, teachers, and public intellectuals who recognize the interconnectedness of systemic forms of oppression, we cannot overlook the injustice and violence, including sexual and gender-based violence, perpetrated against Palestinians. This resolution is an act of transnational solidarity aimed at social transformation for a better world," the NWSA said in a statement.

The NWSA resolution comes at the heels of last month's American Anthropological Association (AAA) resolution to boycott Israeli universities.