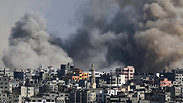 Operation Protective Edge
Photo: AP
The IDF's Southern Command launched a surprise drill on Wednesday morning, which will include troops stationed on the Gaza border and the western Negev.

Throughout the drill on Wednesday there will be an increased presence of troops, military vehicles and aircraft in both southern and central Israel.

The surprise drill, led by IDF chief Gadi Eisenkot and the heads of the Southern Command, will focus on the Gaza border area and practice military responses to familiar scenarios, including rocket and mortar shell barrages on the border communities, the infiltration of dozens of terrorists into Israel both above ground and below it, and fire from armed terror cells at IDF troops from the new road and outposts Hamas set up along the border.

The drill is similar in essence to the drill held by the Judea and Samaria Division earlier this year, shortly after Eisenkot entered his role as chief of staff. That drill practiced scenarios of a violent, wide-scale outburst in the West Bank.

In Wednesday's drill, the Gaza Division will have to utilize different forces, including the Air Force, to deal with complicated attack scenarios from the Gaza Strip, some of which will come with no initial warning from Military Intelligence.

The outgoing GOC Southern Command, Maj.-Gen. Sami Turgeman, said in October that "In the next campaign, Hamas' leaders would not be able to say 'we didn't know the price' (for attacking Israel). The price has been set, and is known."

He went on to say that "It was my great privilege to prepare the Command for war, to command over a long and complex campaign, to investigate, reach conclusions and prepare the plan for the next campaign, if one should happen. We are in the midst of a sensitive time, with negative potential. Hamas has failed at deferring gratification and has been riding on the wave of violence in East Jerusalem and Judea and Samaria. But this is a game with fire that could cause an uncontrollable outbreak. We seek quiet, but let us not be confused: Those who test us will find fighters and commanders who are prepared and vigilant, and will bear the responsibility, the consequences, and the price."