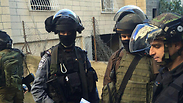 The troops in Shuafat
Photo: Police Spokesman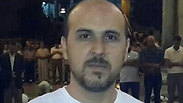 Terrorist Ibrahim al-Akari
Israeli security forces on Wednesday demolished the East Jerusalem home of Hamas terrorist Ibrahim al-Akari, who killed two Israelis in a vehicular terror attack in November of last year.
Some 1,200 Police and Border Police troops were deployed to the Shuafat refugee camp ahead of the planned demolition in order to maintain order and prevent violent rioting in the flashpoint refugee camp.
"The forces were instructed to show zero tolerance for any attempt to harm security forces or disrupt the public order," police said in a statement.
Israeli forces demolish terrorist's home in Shuafat
The demolition went ahead as planned without any unusual incidents. The house was blown up by IDF Engineering Corps.
During their operations in Shuafat, troops seized an M-16 assault rifle and ammunition magazines. In addition, Border Police forces arrested a Palestinian woman at the Shuafat checkpoint who was trying to smuggle a knife hidden inside a gallon of yogurt.
Border police officer Jadan Asad and Shlomo Aharon Ba'adani were killed in the November 5, 2014 attack and several others were wounded.
Al-Akari, 38, a father of five from the Shuafat refugee camp, arrived at the Light Rail station in the afternoon and ran over anyone who crossed his path with his van, starting with a Border Police patrol and continuing on to civilians. He then exited the vehicle and attempted to attack passersby with a metal rod. He was shot to death by Border Police troops that were at the scene. Hamas has taken responsibility for the attack.
After the attack, al-Akari's family expressed pride in his act. In a conversation with Ynet, the terrorist's 16-year-old son, Hamza, said he looked up to his father. "I'm proud of my father. I'm not sad that he died a martyr."
Son Hamza added, "my last conversation with him was about school. He told me, 'be very attentive at school'. Today at school, a group of teachers called for me and asked me to go home. They told me that my family wanted me urgently. When I arrived home, I heard about the incident and was very happy. What's happening at al-Aqsa is something that no one can find acceptable."
The operation
The terrorist's wife tied his actions to clashes on the Temple Mount, and said: "Starting in the morning, he followed what happened in Al-Aqsa and saw the blood, the wounded, the desecration and all that happened. He left home quickly and went to the site of the attack to crown himself among the martyrs and heroes."
The terrorist's brother is Musa al-Akari, a prisoner released in the Shalit deal and deported to Turkey. He was a member of the Hamas cell that murdered border police officer Nissim Toledano in 1992.
Toledano was kidnapped on December 13, 1992 on his way to the Border Control headquarters, and ransom demands were made some two hours later. Toledano's body was then found near Kfar Adomim and a massive wave of arrests followed.
Another brother, Dr. Mansour al-Akari, said: "The events at al-Aqsa mosque hurt us all. It is not we who are the terrorists, but rather those who harm Muslim holy sites, and who forbid the entrance of worshipers to the mosque. We have no problem with any Jew in the world, but those who intend to harm holy places and step on our honor, must be punished."


"The government of Israel and the Likud give a green light to violate al-Aqsa," he continued. "They are responsible for everything that's going on in Jerusalem. This government is foolish. He who is interested in peace does not harm holy places. Al-Aqsa mosque is for Muslims and not for (former Likud MK) Moshe Feiglin. I am a schoolteacher, my students always ask me what's happening with al-Aqsa, and what answer can I give? Should I tell them that the mosque became the Kotel?"
Heavy engineering equipment was also seen entering the camp.
The Shaufat refugee camp is a known flashpoint East Jerusalem neighborhood which has been scene to numerous clashes between Palestinians and security forces. Armed members of Fatah's military wing, Tanzim, have operated in the camp in the past, and present a real challenge for security forces.
Hassan Shalaan contributed to this report.