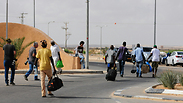 Holot detention camp.
Photo: Herzl Yosef
Interior Minister aims to expand Holot detention camp
Around 2,500 migrants and asylum seekers are currently detained at Holot, which can hold up to 3,300 people. Over the next few days hundreds will be joining those already at the camp, prompting Interior Minister Silvan Shalom to announce he is working to expand it.
Holot detention camp is expected to reach capacity over the next few days, the deputy to Prime Minister Benjamin Netanyahu and Interior Minister Silvan Shalom told a Knesset committee this week.

Those who work with Shalom say that he is currently seeking to expand the camp and that he will shortly hold a discussion on the issue with the Defense, Interior and Justice Ministries.

According to data from the Population Immigration and Border Authority (PIBA), as of Tuesday, 2,495 migrants and asylum seekers were detained at Holot and hundreds more are expected join them.

Holot can hold a maximum of 3,300 people. According to PIBA's statistics, there are currently 45,000 asylum seekers in Israel.

PIBA's statistics, published on Tuesday, also showed that the number of asylum seekers who left Israel in 2015 was down on the number who left in 2014 as part of the "voluntary departure" program. In 2015, 2,920 asylum seekers have left Israel so far, compared to around 7,000 in 2014.

PIBA attributed the decrease to the Supreme Court's decisions to reject the parts of amendments to the Prevention of Infiltration Law that allowed for asylum seekers to be indefinitely detained without trial.

Human rights organizations and the United Nations High Commissioner for Refugees have fiercely criticized Israel's policy towards asylum seekers, including the moves to indefinitely detain those who refuse to leave Israel for a third country.

Last month, the Court for Administrative Affairs rejected a petition against the process, leading human rights organizations to appeal to the Supreme Court.

This week the Interior Ministry published an amendment to the Prevention of Infiltration Law, after the Supreme Court in August rejected parts of previous amendments for the third time. Among other things, the new amendment sets out that the maximum period of detention for asylum seekers and migrants is 12 months, as is currently the case, but with the option to extend this by six months in exceptional circumstances.

The amendment came despite the Supreme Court calling to shorten the duration of detention, while ordering a temporary limit of one year.

Shalom said on Tuesday: "We are using every legal means available to us in order to defeat the phenomenon of infiltration, of which the facts speak for themselves."

The Hotline for Refugees and Migrants responded: "Instead of continuing to invest a fortune from public funds in the Holot camp, the state should direct resources towards finding a genuine solution – and not one which solely boosts the political capital of ministers.

"Budgets should be invested in south Tel Aviv and other places with asylum seeker populations in order to improve social and health services, to the benefit of all communities in those areas. They should also be directed to creating a natural dispersal of asylum seekers by granting regulated work permits and offering incentives to business owners across the country."