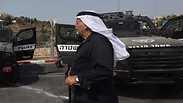 East Jerusalem. 'I would strongly advise them not to go into the neighborhoods' (archives)
Photo: Gil Yohanan
Chabad activists are planning to visit East Jerusalem during the Jewish holiday of Hanukkah in order to explain to the Palestinian residents the importance of observing the Seven Laws of Noah (a set of imperatives which, according to the Talmud, were given by God as a binding set of laws for all of humanity).

The Hasidic movement has decided to try to solve the terror problem by encouraging non-Jews to observe mitzvot, and have recently launched a campaign aimed at raising awareness of these laws.

Religious War

Public opinion poll reveals 85% of national-religious Jews see the Arab Muslim sector as an existential threat to the State of Israel, 70% boycott Arab businesses and 53.5% are in favor of discussing a forced population transfer.

As part of the campaign, Chabad members are asking Jerusalem's Arab minority to observe the mitzvot given to all people, including the prohibitions against eating a live animal, murder, stealing, denying God engaging in incest and adultery.

The campaign kicked off with an event held on Jerusalem's King George Street in the presence of Deputy for Regional Cooperation Ayoob Kara, who promised to help advance the campaign.

The campaign's initiator, Boaz Kali, said 100,000 billboard signs would be printed with a picture of the Lubavitcher Rebbe alongside the word "messiah" in Arabic and quotes from letters calling for world peace by observing mitzvot. Hundreds of ads have already been distributed near Arab neighborhoods and construction sites.

"This is a religious war, so it requires a religious response, and the Seven Laws of Noah are the basis," says Kali. So far, he adds, the Chabad activists have not encountered any opposition and are now launching a fundraising campaign allowing every person to help fund a sign.

"We have reached an agreement with a company specializing in billboards in Arab villages and cities. They have 1,400 billboards in the entire Arab sector, and we have already bought 20 of them."

One of the city's Arab sheikhs says he has no problem with the Chabad activity, as long as it is done in a pleasant manner, as the promoted mitzvot match Islamic customs, but in the current security situation he sees it as a bad idea.

"It depends on which areas they plan to visit, but in any event I would strongly advise them not to go into the neighborhoods," the sheikh explained.

"The basic commandments of all religions come from the same place. They are acceptable to everyone and talk about each person's moral behavior. It's okay to come and explain about the mitzvot, as long as they are not forcing anyone to do anything against his will."