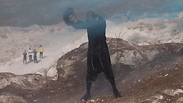 Serious evidence has been collected against religious zealots in Beit Shemesh
Beit Shemesh police arrested an ultra-Orthodox resident of the city this week on suspicion of committing a number of violent acts and threatening residents of the Hephizbah neighborhood.

The suspect, in his 30s, has allegedly been carrying out the attacks against those he deemed to not be adequately following Jewish religious law, and who he claimed were not leading a sufficiently religious lifestyle.

The arrest took place within the framework of a weeks-long investigation by Beit Shemesh police, who collected substantive evidence against a number of suspects.

According to the suspect, they continuously aggressed numerous residents of the neighborhood with the aim of coercing them into leading a more observant lifestyle.

Beit Shemesh's more moderate ultra-Orthodox, from the central stream, tell of an atmosphere of terror imposed on the public by zealots – for example, through media outlets – which amount to bullying and delinquency.

"This is the 'Iranization' of Beit Shemesh, if not the 'Daeshization,'" one of them said, using the Arabic shorthand for the Islamic State group.

Local newspaper owners spoke of protectionism. "We're threatened. Whoever doesn't toe the line can expect to be personally and professionally hounded, continuously so," one said.

Among the demands the zealots have made to newspapers are to use the words "rooms to rent" instead of "guesthouses," as well as not to print women's first names, or the words "pregnancy," "childbirth" and "breastfeeding."

These activities have exclusively internal, and directed against the ultra-Orthodox public alone. Beit Shemesh has previously been the site of confrontations between the ultra-Orthodox and other Jewish denominations, with residents not belonging to any ultra-Orthodox streams complaining of religious coercion and harassment.