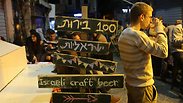 The Beer Bazaar in Jerusalem's Mahane Yehuda Market (Photo: Alex Kolomoisky)
Jerusalemites swap fear for beer
Brooklyn-born Avi Moskovitz's friends told him he had to be crazy to open a pub in Jerusalem's Mahane Yehuda market now. But Moskowitz, who worked in hi-tech, opened Beer Bazaar in the heart of the market, selling Israeli beer only. This is Jerusalem syndrome, the party version.
When Jerusalem's restaurant owners are talking about a significant decrease in customers over the last few weeks, the light rail is almost empty of people and fear continues to dominate the streets, you would need to be crazy - or at least crazy about something - to open a bar right now. But judging by what went on at Jerusalem's Beer Bazaar last weekend, the crazy gamble has paid off.
The boutique Israeli pub that opened just a week ago in Jerusalem's Mahane Yehuda market still suffers from teething problems. A sister pub to the Beer Bazaar in Tel Aviv's Carmel Market, the Jerusalem branch still has bottles of whisky and olive oil on its shelves and we had to ask for a fork. But an eclectic clientele is already enjoying the bar, not least for its buzzing and cheerful atmosphere.
Avi Moskowitz, 51, a Brooklyn native and former hi-tech employee, is a father of four and grandfather of three. He has spent the last 20 years on the New York-Efrat line, until he decided to settle in Jerusalem a couple of months ago. It seems that the passion that led him to swap the delights of the US for the Israeli swamp has also served him well in his choice of business.
Packed every night despite the fear
"As long as we were bringing up children, we preferred to live in the suburbs," Moskowitz says. "We thought it would be better for them. "When they had grown up, we decided to return to city life. We bought an apartment 300 meters from the market, but we thought more time would pass before we'd move there. When our daughter made aliyah with our grandchildren, the penny dropped and we realized that we wanted to be there, only there.
"And when we got to the apartment and saw it we knew we wanted to move in," Moskowitz continues. "The market is an incredible place, you experience everything here. Only this morning two terrorists were walking around here trying to stab people. I was in the bar when it happened, people were walking around the market, noise started, we realized something was going on. It was a mess and then after a few hours everything was relaxed again.
"The next decision was to make an old dream come true here and open a bar in which people of all kinds would sit together, drink beer, eat something and chat. I didn't believe I'd do it, and everyone around me said I was crazy. But for me, the market is the place to try, there's a lot of movement here, and curious people, and it works. With all that's happening and despite the tough conditions, the place is full evey night. I sometimes think I've developed Jerusalem syndrome - but I actually feel blessed, not as if I've sacrificed something."
Over a hundred boutique Israeli bottled beers are on offer at the Beer Bazaar, and nine on tap. Moskowitz only sells Israeli brews - he sees it as the Zionist response to the European boycott of Israeli products.
The menu, which draws inspiration from exotic locations, includes chilli con carne and beef sausages, is tasty and cheap, with the most expensive dish coming in at NIS 34. The music is upbeat and the feeling of life, of normality, warms the heart.
"I feel like my years of experience in hi-tech and marketing, which I loved, and my experiences and failures, led me to where I am today, that I've found my mission," Moskowitz says. "I went into this venture with my eyes open. There were doubts and uncertainties but I felt it was the right thing to do. There's no logic. My principle is always to keep going no matter what's happening. And the market, which always manages to move on after difficult events, is the place that proves it's possible."
And this is indeed the case. The daily hustle and bustle of the Mahane Yehuda market and its switch into a buzzing nightlife hotspot shows just how much life there is in these Jerusalem alleys.