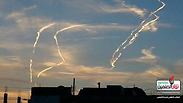 Reported contrails from Israeli jets in previous strikes
Did Israel strike in Syria once more? Yes, according to reports in Syrian media. According to the reports, Israel attacked in the Qalamoun Mountains, an area near the Syrian/ Lebanese border.

The reports further stated that Israel had bombed the 155th brigade of Syria's army. According to at least one report the target was a group Syrian Scud missiles. Up until now, the Syrian regime has not officially responded to the reports. Official Arabic media outlets also did not comment on the strike.

According to additional reports, also unconfirmed, there were claims that the air force struck northeast of Damascus, destroying a truck carrying ballistic missiles at a 155th brigade base. "Drones attacked a weapons truck on the outskirts of Damascus while on their way to Lebanon," Al Arabyia reported.

Defense Minister Moshe Ya'alon, who is currently on an official visit to the US, met with the Chairman of the Senate Armed Services Committee, John McCain, on Thursday. Ya'alon did not directly refer to a specific strike, however he did say that Israel was actively working to prevent a new terror front on the Golan: "Thanks to the vast funds that will soon flow to Iran after the removal of the sanctions, it will produce much more advanced weaponry, and buy advanced weapons systems which will be used to arm terror organizations in the area," he said.

Adding that, "They are arming Hezbollah, Hamas, and the Palestinian Islamic Jihad. Iran is working non stop to arm Hezbollah with advanced weapons. We will not allow the opening of a new front against us in the Golan, and when necessary we act against these intentions."