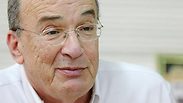 Yossi Sarid.
Photo: Tomeriko
Former MK and minister Yossi Sarid dies at 75
Former Minister of Education Yossi Sarid, for decades a key figure on the Israeli left and the former head of Meretz, passed away in Tel Aviv on Friday evening. Sarid left politics in 2005, but continued to have his say on the Israeli-Palestinian conflict and issues of religion and state in articles, columns and on the radio.
Yossi Sarid, the former education minister, passed away on Friday evening at the age of 75. A Member of the Knesset for 32 years, Sarid started out with the Alignment party before continuing his political career with Meretz. He passed away in Tel Aviv after extended resuscitation attempts by paramedics.

Sarid was born in October 1940 in Rehovot. His father Yaakov (Schneider) was the head of the Minstry of Education. Sarid spent his army service in the Artillery Corps before becoming a military correspondent.

His political journey started with Mapai, after which he served as an assistant to Finance Minister Pinchas Sapir and Prime Minister Levi Eshkol. In 1974 Sarid was elected to the Knesset for the first time as a member of the Alignment party. He was a member of the Foreign Affairs and Defense Committee, among others.

Sarid's first government role came in 1992 as part of the Rabin government, when he was appointed Minister of the Environment. After competing with Shulamit Aloni, who was then head of Meretz, Sarid was appointed leader of the party on October 22, 1996.

In the 1999 elections Sarid promised his voters that he would not join a government with Shas. Eventually, however, his party entered a coalition that included Shas after leader Aryeh Deri resigned.

In Ehud Barak's government Sarid served as the Minister of Education, although in 2000 Meretz quit the coalition and Sarid resigned from the government after no agreement could be reached on giving authority to Shas for the deputy minister of education role.

Sarid announced his retirement from political life in 2005. For a period after, he took up a voluntary teaching position at a school in Sderot. Aside from his political and social activism, Sarid also turned his hand to writing literature.

For the last few years Sarid contributed regularly to the Haaretz newspaper and was a panel member on an Army Radio show.
Tributes
Yossi Sarid was known for his sharp tongue, especially when speaking on the Israeli-Palestinian conflict.

"The fight against terror cannot stop as long as terrorism itself is not stopped, but the path of war must change: it must lead directly to terrorists, and not be waged on the backs of three million Palestinians," Sarid once said.

Current Meretz chair Zehava Galon said on Friday evening that she is in mourning over Sarid's passing, calling him a distinguished minister, MK and leader.

"This is a tremendous loss for the entire country and a personal loss that I cannot put into words," Galon said. "Yossi was a teacher, a beacon of morality and responsibility, a lover of Israel and a model of leadership."

MK Tzipi Livni of the Zionist Union said: "The death of Sarid is the death of someone who fought for the heart of the country. It was possible to disagree with him, but impossible not to listen to him. May his memory be blessed."

Yaron Druckman, Attila Somfalvi, Rotem Elizera and Shahar Hai contributed to this report.