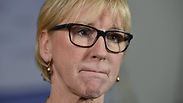 Margot Wallström
Photo: AFP
Swedish Foreign Minister Margot Wallström caused another diplomatic crisis on Friday when she accused Israel of conducting "extrajudicial executions" of Palestinians committing terror attacks.

Wallström's comments were made during a discussion at the Swedish parliament about the ongoing wave of violence and terror attacks raging in Israel.

According to a report in Swedish newspaper Expressen, Wallström was asked by one of the members of parliament, Mathias Sundin, why she doesn't issue strong condemnations against terror attacks by Palestinians against Israelis.

Wallström said she was against the stabbing attacks. "I think it's terrible, and it must not happen. Israel has the right to defend itself, to ensure its safety," she said.

However, she added that Israel's response must not be that of "extrajudicial executions" of the terrorists on the scene of the attack, or a "disproportionate response" that makes "the number of dead on the other side greater than the original death toll by several factors."

Israel's Ambassador to Sweden, Isaac Bachman, slammed Wallström's comments, saying that "To focus on the actions terror victims take in self-defense only serves to draw attention away from the horrors of terrorism. Instead, we should condemn and act to stop the perpetrators, the financers and the inciters of terrorism."

The Foreign Ministry said in response that, "This is an outrageous statement. Delusional, rude and detached from reality. The foreign minister is suggesting the citizens of Israel simply present their necks to the killers seeking to stab them with knives. The citizens of Israel and its security forces have the right to defend themselves. In Israel, every person who commits a crime is brought in front of a judge, including terrorists. The citizens of Israel have to deal with terrorism that receives support from irresponsible and false statements like that."

The Swedish Foreign Ministry issued a statement on Saturday morning, clarifying that "the Foreign Minister did not say that Israel conducts 'extrajudicial executions'. The Foreign Minister made a general statement about international law and the right to self defence and the importance of proportionality and distinction. What she stated applies to all parties."

Wallström has had a series of diplomatic confrontations with Israel. Only last month she raised ire in Israel when she seemed to imply that there was a connection between Islamist terrorism and the "desperate situation" of the Palestinians.

During an interview on Swedish TV channel SVT2, shortly after the Paris attacks, she was asked if she is concerned about the radicalization of Swedish youth who fight with Islamic State.

"Of course we have cause for concern, not just in Sweden but throughout the world, because there are so many being radicalized," Wallström replied.

"And again, it reminds us of the situation in the Middle East, where the Palestinians see that there is no future for them and have to either accept a desperate situation or resort to violence," she added.

The Foreign Ministry's director-general, Dr. Dore Gold, invited Swedish Ambassador to Israel Carl Magnus for an urgent discussion to clarify Wallström's comments.