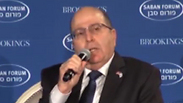 Ya'alon at the Saban Forum
WASHINGTON - Defense Minister Moshe Ya'alon accused the United States on Friday of "sitting on the fence" in the fight against the Islamic State, leaving room for Russia and Iran to increase their influence in the region.

"This is a global challenge in which I believe the United States should lead the Western world," Ya'alon said at the Brooking Institution's Saban Forum in Washington DC.

"Unfortunately, in the current situation, Russia is playing a more significant role than the United States," Ya'alon continued. "We don't like the fact that King Abdullah of Jordan is going to Moscow, the Egyptians are going to Moscow, the Saudis are going to Moscow."

Defense Minister Ya'alon speaks at Saban Forum

"The United States can't sit on the fence," he determined. "If you sit on the fence, the vacuum is filled - in Syria for example - either by Iran, the Shi'ite axis, supported now by Russia, or by ISIS."

The defense minister asserted that the only way to defeat the Islamic State is by putting boots on the ground. However, he stressed that "Western troops in our region should be the last resort" and that instead, the West needs "to empower the local boots on the ground, mainly the Sunnis and also the Kurds."