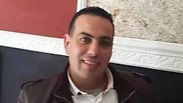 Saeb Erekat, the head of the PLO's Executive Committee and the chief negotiator with Israel, paid a visit on Saturday to the family of terrorist Mazen Aribah, a Palestinian security officer who wounded two Israelis in a terror attack outside of Jerusalem.

Aribah shot and moderately wounded an Israeli Arab civilian, and lightly wounded an IDF soldier near the Hizma checkpoint on Thursday. He was shot dead at the scene.

Aribah came from a family with a problematic history of terror attacks. His father carried out a stabbing attack in Jerusalem in 1992 and was jailed in Israel for five years. His nephew was responsible for a stabbing attack on Jaffa Street in 2002 and killed in the process. Wednesday was the anniversary of his death.

Erekat arrived at the family home in Abu Dis with the PA governor of Jericho and local Fatah officials from the Jericho district.

This isn't the first time in which Fatah officials come to pay their respects to families of terrorists who committed attack in the current wave of violence, including senior officials, but Erekat is undoubtedly the most senior official to visit the family of a terrorist, particularly one who committed a shooting attack which is considered a serious attack even among the Palestinians.