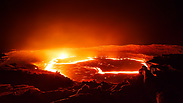 Fire from the ground in Ethiopia
IN PICTURES: The Israeli who looked into the eye of the volcano
The photos here were not digitally rendered for a Disney film or the cover of a fantasy novel. They are the work of prize-winning Israeli photographer Erez Marom, who has captured the biggest moments in the big wide world, from Namibia to Ethiopia, Greenland and Iceland. 'You can't know whether your photos are going to be a success,' he tells Ynet.
With the world turning into what feels like one big battleground, it is easy to forget the natural beauty that it holds. Fortunately we have Israeli nature photographer Erez Marom to remind us of what the world still has to offer.

Marom, 35, who works mostly in Iceland, recently won a coveted prize at the prestigious Neutral Density awards (named after a filter that intensifies colors and wavelengths in photos).

But Iceland is not Marom's only destination. For the last seven years he has been roaming the world, in the air and on land, photographing the world's natural wonders, including for National Geographic.

Marom devotes most of his time to touring and taking photographs, while also sharing his experiences and techniques in photography workshops that he leads in Iceland, Norway, Patagonia, Greenland and more.

Marom has shared with Ynet some of his thousands of photos, many of which can also be found on Facebook, his website and, like all photographers today, on Instagram.