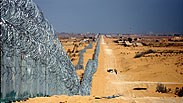 The Israel-Egypt boder fence
Photo: Roee Idan
Some 200 Africans from Sudan and Eritrea have managed to cross the border from Sinai into Israel, despite the completion early last year of the new border fence, Ynet has learned.

Groups of Africans climbed over the fence using 6-10 meters high ladders, and were immediately arrested by IDF troops.

Some of them were taken to the Soroka Medical Center in Be'er Sheva for treatment after jumping off the fence into the Israeli side and as a result suffering from bruises, scratches and broken limbs.

Egyptian forces did not try to thwart these attempts to cross the border in order to avoid getting into a fire exchange with the smugglers. In two attempts over the past month and a half, the Egyptians were able to thwart the infiltration, but an exchange of fire led to the death of some 20 Africans. In a third attempt, the Egyptians were able to stop a group of infiltrators without causing casualties.

The Africans were taken to the Saharonim detention facility in the Negev, where they will await the state's decision on whether to recognize them as asylum seekers, or try to deport them back to Africa.

A recent Supreme Court decision limits the amount of time authorities can detain the African migrants without a trial to one year, meaning a decision on their case would have to be made within that timeframe.

The new 220 kilometers-long fence, built across the border with Egypt from Kerem Shalom to the mountains of Eilat, was meant to stop the flow of Africans arriving in Israel every year, after over 10,000 managed to enter the country.

And, indeed, in the year following the completion of the fence, only a handful of migrants crossed the border. Despite that, African migrants continue their attempts to enter Israel, as it is much cheaper to cross into the country, than to Europe. Smugglers charge some $3,000 for Europe, and only $600-$1,500 to Israel.

Attempts to smuggle drugs from Sinai also continued unabated and in some of the cases smugglers sawed off sections of the fence to allow passage. Still, IDF and police troops were able to stop some of the smuggling attempts.