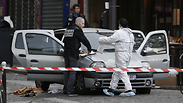 Israel will become the target of an ISIS attack, it is just a matter of time, senior security officials said on Monday.

An IDF's General Staff drill was carried out last week, which drilled a scenario in which ISIS carried out a big attack in southern Israel, leading to the deployment of a battalion of paratroopers.

The Islamic State recently published a series of videos which included threats to attack Israel, some of which were attributed to the events at al-Aqsa mosque. Some of the films sought to encourage terrorists to carry out attacks, while ISIS's Sinai branch directly threatened an attack on Eilat.

The defense establishment believes that the ISIS is pressured by Russian and American attacks, they quicker they will to terrorist activities outside Syria. This is how the defense establishment explains the recent terror attacks in Europe and the United States.

According the same sources whereas regarding Hezbollah and Hamas the IDF knows exactly where to attack, this is not the case with Islamic State: whether the attack originates in the Sinai or in Syria there are no concrete targets. "Who will we attack in Syria that the international coalition or the Russians are not already attacking?" questioned the security official.

In the past year there has been a significant increase in the number of Israeli Arabs involved in ISIS activities. While eight incidents involving ISIS were uncovered in 2014, there have already been 14 incidents and 34 arrests linked to the group in 2015.

According to Shin Bet assessments a few hundred Israeli Arabs support ISIS, 32 of which have already gone to fight in Syria and Iraq, seven of whom were killed in the fighting in Syria.

The last major incident involving the group occurred on October 25, when an Israeli Arab from Jaljuliya paraglided over the border in the Golan Heights to Syria, where ISIS fighters were waiting for him and picked him up. A network of six Islamic State supporters was uncovered in Jaljuliya.

Also in October, seven Arabs from Nazareth were accused of having purchased illegal weapons, and contacted two Israeli-Arabs who had joined the terrorist organization in Syria and were planning to carry out a shooting attack at an IDF base near the northern city of Migdal Haemek. One of the defendants killed the taxi driver Yafim Weinstein in 2009. Another defendant filmed a video in which he demonstrated how to slit throats.