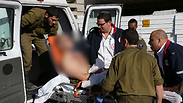 Terror attack (Photo: Archive)
A 40-year-old Israeli was critically wounded in a stabbing attack near the Tomb of the Patriarchs in Hebron on Monday afternoon, the terrorist was reportedly shot and killed by border police troops .
Zaki Yahav, an MDA paramedic told ynet, "When we arrived at the scene we saw a 40-year-old man lying on the floor, partially conscious with a number of stab wounds to his upper body. We immediately loaded him onto the ambulance in order to evacuate him to the hospital as soon as possible. We evacuated him while providing initial life saving care which included stopping the bleeding, and giving him fluids."
Two Israelis were lightly wounded on Sunday evening in a vehicular attack in Jerusalem and a Palestinian perpetrator was killed by an IDF soldier at the scene.
The Palestinian arrive on the scene in a vehicle and hit two individuals who were lightly wounded in the incident. He then preceeded to exit the vehicle and stab a 65 year old who was also lightly wounded. He then fled down the street where a police unit stopped their vehicle to confront the attacker.
A solider who happend to be disembarking from a nearby bus shot and killed the terrorist.