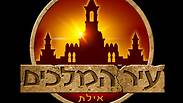 Anyone who has visited Eilat in recent years has probably asked themselves the same question: What on earth is that "cardboard castle", standing there vacant, hardly ever active? That is Kings City, Eilat's grand and ambitious biblically-themed park. These days, no kids going down the long-since-dry waterslides, no one is maintaining the rusty rides, and the atmosphere seems as bleak as it was before god revealed himself to Abraham.

On Monday morning, Kings Ciry's management announced that the amusement park would close next month, due to huge debts of over NIS 50 million. The park will enter receivership proceeding, and this will come a sad end to one of the most notable attractions in the history of Israel's southern tourism city. It seems that the place will be demolished and replaced by – how very surprising – more hotels.

Eilat's Kings City

Kings City was established a decade ago (by Elran (DD) Real Estate Ltd., Africa Israel Hotels, and Jule Verne Holdings), and was an attempt to make an old-testament-themed Disneyland in Israel. The ambitious vision started on its way in 2000, and opened its gates in 2005 with great fanfare, in Eilat's east lagoon area. Its main attractions include the Bible Cave, the Illusion Cave, the David Spiral Slides, and of course, the King Solomon Falls, from which water drops down 20 meters on the structure's outside. The park also includes a children's Gymboree area, coffee shops and restaurants.

The park, which spreads over a 16-dunam area and includes a large castle structure, cost – according to some reports – over NIS 160 million to build. Its establishment was guided by professional advisers from around the world, among them consultants who worked for Disney, helping to provide the knowledge base for Israel's first theme park of this kind.

Besides the giant investment in its construction, huge sums were also poured into the park's promotion, mostly inside Israel. Kings City was even quite successful initially, but later faltered. In 2010, when visitor numbers began to decline, the Fattal hotel chain took it over, but it still did not thrive as expected, and couldn't maintain a level of income that would cover its initial investment. On average, say sources in the know, Kings City had about 250,000 visitors a year.

"The attraction started as a very impressive, and you could really spend 4-5 hours there, but it was sort of a one-time thing. I don't know of people who came to Eilat from other places in Israel and returned to Kings City for a second time or more," says a well-informed local Eilatian source.

Some in the city say that the park's management failed to innovate enough to keep the visiting public enthused. "Look at, for instance, the underwater observatory with its shark tank, the dolphin reef, and other places – all are renewed and updated throughout the years," one of these locals says, "and here, what did they add? An outer amusement park after five years? Such a park won't attract people to return to Kings City, especially not when similar and even identical rides can be found in other places around the city. So yes, its possible that they didn't think enough there."

The same source also told Ynet that in the past few years, Kings City was closed on Saturdays, which goes against the nature of Eilat's leisure culture – weekends being the busiest business days.

A senior Eilat tourism industry source thinks that the failure of Kings City is a fairly natural occurrence and not that bad. "That concept of Kings City always aimed at an Israeli-Jewish crowd, since the time of king Solomon, which they made their main theme, doesn't really mean much to international tourists. Non-Israelis never understood that concept. What's the connection between the mini-Disneyland in the resort town and ancient characters from Jewish history?"

He continued, "Now, that there are strong efforts being taken to entice international tourism to come to Eilat – by building the new airport and by bringing in low-cost airlines that fly directly to the south – we need to change our mindset and start to think about what this city really has to offer international crowds – beyond biblical stories."