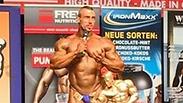 Mr. Universe, Israel's Danny Kaganovich
He was a slim and unconfident teenager who just wanted to build some muscle and improve his looks. Now he's Mr. Universe. Danny Kaganovich, 23, recently became the first Israeli to win one of the bodybuilding world's biggest titles.

"I started training at age 16 at home, watching YouTube videos and reading on the internet, because I wanted to get strong and to improve my looks and confidence," Kaganovich smiles. "I was very thin: I weighed 60 kilos, which is half of what I weigh today. I saw that my muscles were responding well, so I signed up at a gym."

After a year of intensive exercise, Kaganovich, who lived in Be'er Sheva, decided to compete in the Israeli Mr. South competition. It was his first competition, and he won.

He says that bodybuilding hasn't only given him more confidence, but actually changed him completely. "I was a messy, silly kid," he says. "Bodybuilding put me in a structured environment. You need order and discipline in this sport. I became a different person – not just physically, but in my character - and I'm happy with the change."

During his five years in the bodybuilding world, Kaganovich has won several different titles. He won the Mr. Universe youth category three years in a row, but this year, for the first time, he came in first as the competition's overall winner. He is the first Israeli to do so.

Kaganovich says that he and his coach, Stas Struzberg, didn't really dare to speak of him winning before the competition started, but it has inspired him for the future. "Now I keep looking forward. I want to try competing in other contests, including in the United States."