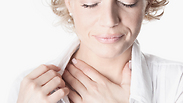 Helping asthma and COPD patients improve pulmonary function (illustration)
Photo: Shutterstock
Israeli medical apps top international competition
Four Israel-based companies are among 10 winners of 2015 Medica App Competition held in Dusseldorf, with applications enabling people with speech disabilities to use their own voice, offering smarter visual cervical cancer screenings, helping asthma patients breathe effectively and enabling provision of online medical services.
Four Israeli applications are among the 10 winners of the international 2015 Medica App Competition held recently in Dusseldorf, Germany.

The first place went to the Talkitt app, developed by the Israel-based Voiceitt company. Talkitt aims to revolutionize the way people who have speech disabilities due to various motor, speech and language disabilities communicate (people suffering from cerebral palsy, autism, ALS, Parkinson's disease and head injuries), enabling them to use the most natural means there is, their own voice.

No Stress

Serenita, developed by digital medicine company Eco-Fusion, measures user's stress level through smartphone camera and provides personalized breathing exercises.

Mobile ODT came in third with its Enhanced Visual Assessment (EVA) System, used by trained healthcare professionals to conduct smarter visual cervical cancer screenings by enabling providers to manage patient information, consult with peers for second opinions, and refer patients for the proper care.

The 10 winners also included iFeel Labs Match3 by entrepreneurs Keren and Elad Fein, who developed a game which uses a biosensor sensor to help asthma and COPD patients learn how to breathe effectively and improve pulmonary function.

"It's a safe way to improve lung function and give asthma patients an opportunity to live the life they have always wanted," says Elad Fein.

The fourth Israeli company to make it into the top 10 was Doctome, which developed an innovative telemedicine platform that enables the provision of online medical services. It allows for video calls/chats anywhere around the globe with doctors speaking the patient's language, 24/7, 365 days a year.