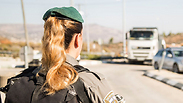 Security forces arrested Bassel Abou Alia (26) from the village of Al Magir in the Binyamin, on Tuesday night in a hotel in Ramallah.

Alia was arrested due to his involvement in an attempted stabbing attack on October 30 at the Tapuach junction in the West Bank with another Palestinian terrorist. He was later transferred into Shin Bet custody.

The incident was the first case during the current terror wave in which terrorists used a motorcycle to conduct an attack. The two arrived at the junction on the bike, attempted to stab border police troops and were shot by a border policewoman at the scene. Kassem Sabaana (20) from Kabatiya was killed by the policewoman, and Abu Alia was critically wounded.

Abu Alia was evacuated to Rafidia hospital in Nablus by the Red Crescent, and later transferred to a hospital in Ramallah. In recent weeks he had hid out in a hotel in Ramallah, fearing that he would be arrested. He was arrested in a joint Shin Bet and IDF operation.

Abu Alia previously served time in an Israeli prison after being convicted on charges of financing terrorism in the West Bank. He is also a member of Hamas. It is still unclear whether Hamas was behind the attack, a major facet of the investigation.

Although he was wounded by the border policewoman's fire, Abu Alia managed to flee the scene to a Red Crescent ambulance, which evacuated him to Rafidia hospital. The Shin Bet managed to pick up his trail using accurate intelligence. He was arrested at a Ramallah hotel by undercover IDF troops. The arrest went without incident.

Earlier on Tuesday, soldiers entering Dheisheh refugee camp were targeted with pipebombs and Molotov cocktails. According to Palestinain sources a Palestinian man, Malek Shahin, was killed in the clashes.

"Forces fired warning shots into the air in order to disperse the mob and prevent an escalation of violence," a military spokeswoman said.

She could not confirm the death of the Palestinian but said the military was looking into it.