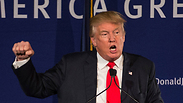 Washington - Jewish organizations in the United States harshly criticized Republican presidential candidate Donald Trump on Tuesday, following his declaration that the US must prevent the entry of Muslims to the country, whether they be immigrants or tourists.

The Anti-Defamation League (ADL), which was founded in 1913 to respond to the growing phenomenon of anti-Semitism, said that "a plan that singles out Muslims and denies them entry to the US based on their religion is deeply offensive, and runs contrary to our nation's deepest values."

Meanwhile, Trump tweeted Tuesday night that he would visit Israel before the end of the year. "I am very much looking forward to it," he wrote.

Prime Minister Benjamin Netanyahu was set to meet with Donald Trump on December 28, in light of the backlash against his anti-Muslim remarks. Netanyahu's office stated that the appointment was made two weeks ago, prior to Trump's comments. The office added that "the prime minister would meet with any candidate from any party.

Donald Trump calls for preventing Muslims from entering the US (צילום: רויטרס)

Jonathan A. Greenblatt, ADL CEO, stated that "Mr. Trump's plan to bar people from entry to the United States based on their religion is unacceptable and antithetical to American values. The U.S. was founded as a place of refuge for those fleeing religious persecution, and religious pluralism is core to our national identity. A plan that singles out Muslims and denies them entry to the U.S. based on their religion is deeply offensive and runs contrary to our nation's deepest values.

"In the Jewish community, we know all too well what can happen when a particular religious group is singled out for stereotyping and scapegoating. We also know that this country must not give into fear by turning its back on its fundamental values, even at a time of great crisis. As we have said so many times, to do otherwise signals to the terrorists that they are winning the battle against democracy and freedom."

According to a CNN poll, Trump still leads among Republican voters in New Hampshire, the second state to hold Republican primaries. Trump has 32% of voters' support, a six percent increase since September. He is followed by Marco Rubio with 14%.

In recent days Trump was the target of a series of condemnations from the US and abroad. The harshest criticism came from the White House, which stated that his plan disqualified him from being president. Nevertheless, Trump stood behind his declaration during an appearance on ABC news.

Fortune magazine commented that Trump's statements might have a negative effect on his business with Arabic and Muslim countries, particularly in the Gulf. In 2013 Trump signed an agreement with an investment group from Dubai to open a set of prestigious golf courses, the first of which will open in 2017. Qatar Airways also maintains a big office in Trump Tower in Manhattan.

Despite the statement, Al Jazeera reported that Trump's partners in the Gulf and Turkey would continue doing business with him as usual. Earlier this year his daughter Ivanka Trump stated that her father intends to expand his business in the Middle East, particularly with the United Arab Emirates and Saudi Arabia.