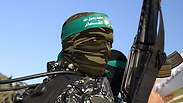 Palestinian security prisoners that were released as part of the Shalit deal and expelled to Gaza, Qatar and Turkey, have reportedly been working to form their own militant cells in the West Bank and East Jerusalem in order to launch attacks against Israel, Hamas sources told Ynet on Thursday.

To that end, the expelled prisoners, members of Hamas' military wing, are using the connections they made in the villages and cities of the West Bank and East Jerusalem before they were arrested.

They each operate separately, working with a contact in the territories, each in a different area. The expelled prisoners provide their contacts in the territories with funding and guidance, while the contacts form the cells. The fact the communication between the expelled prisoners and their contact in the West Bank is done directly, makes these military cells decentralized and compartmentalized.

These operations are led and financed by the head of the Hamas military wing's West Bank Division, Saleh al-Arouri, who is located in Turkey.

The Hamas source also told Ynet that the Gaza rulers are encouraging and pushing for suicide bombings in the West Bank and East Jerusalem in order to further escalate the situation. So far these attempts have been unsuccessful.

According to the Hamas source, an escalation of the situation in the West Bank will provide the terror organization with a way out of the crisis it faces in the Gaza Strip.

Meanwhile, feeling the Hamas leadership in the West Bank was not doing enough to lead the popular uprising in the territories because they are afraid of being arrested by Israel or the PA security forces, the expelled prisoners formed their own shadow organization to lead protests, marches and clashes with Israeli security forces, as well as encourage incitement.

This independent civic activity has caused tensions within the Hamas leadership. The organization's West Bank leadership claims the expelled prisoner's operations only serve to weaken Hamas' military presence in the West Bank.