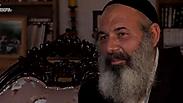 Rabbi Avraham Sinai, today
Photo: Orot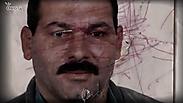 Hezbollah activist Ibrahim Yassin. 'I was executed several times'
Photo: Orot
Blood brothers: The rabbi and the former Hezbollah activist
Rabbi Avaraham Sinai, who was born in a Shi'ite village as Ibrahim Yassin and was imprisoned for spying for Israel, couldn't believe his eyes when he first met Safed's chief rabbi - the man who had appeared in his dream 15 years earlier while in Lebanese jail.
He was born in a Shi'ite village in Lebanon as Ibrahim Yassin, moved up the Hezbollah ranks and decided to spy for the State of Israel. After being caught and tortured, he was sentenced to death. And then, as he was locked underground with only a Koran, the questions began emerging, along with the fear, mortal fear.

Rabbi Avraham Sinai's amazing story - from the Lebanese jail to Israel - has already been revealed here in the past, but he recently shared with Ynet and Orot TV another pivotal aspect of the long journey he went through before reaching a state of tranquility in the northern Israeli city of Safed.

"I was executed several times - but the executor was unsuccessful. He cocked the gun, pressed the trigger - and the bullet didn't come out. There, in jail, I realized that a man comes here on a mission, and God Almighty says to the man: 'You won't die until I say so.'"

While he was in jail, he had a strange dream. Today he calls it a "revelation." In his dream, he saw a man of Jewish appearance sitting in an unfamiliar office, and greeting him cordially.

Fifteen years later, Yassin arrived in Safed for the very first time. His hosts took him to visit the city rabbi, Shmuel Eliyahu, in his office. When he entered, Yassin couldn't believe his eyes.

"The same dream was revealed before my eyes," he says. "The same entrance, the same room, the same person I met in my dream. Suddenly, I actually saw him."

"When he came here for the first time, I felt as if we were brothers from the six days of creation," Rabbi Eliyahu says excitedly. "An Arab guy from beyond the border, who barely speaks my language, walks in - and I had such a strong feeling of love that I just stood up in his honor, although I had never seen him before.

"We love each other so much, that we feel it's not a 15-year friendship but family. I feel that he is my brother."
'The Koran prohibits suicide'
Today, Rabbi Sinai focuses his efforts on spreading his amazing story. As a former Muslim who is well-versed in the Koran, he exposes the huge gaps between the religious text of Islam, which talks about comradeship and peace and opposes murder and killing, and the radical religious leaders who encourage their followers to commit indiscriminate killing in the name of religion.

"Every sheikh has a different opinion," he says, and strongly denounces the sheikhs who send young people to commit suicide in the name of Islam. "It says in the Koran that whoever kills himself has no right to the afterlife. Where do they bring these things from?

"I know I am here on a mission. I came here in order to live, not in order to die. When they tried to kill me, I asked God: Why are you protecting me? And then I understood: He is not protecting me because of the Koran, but in order for me to come here. He prepared me there, so that I would come here."