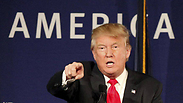 Donald Trump
Photo: Reuters
Republican presidential candidate Donald Trump said Thursday that he has decided to postpone his trip to Israel, initially scheduled for December 28.

"I have decided to postpone my trip to Israel and to schedule my meeting with (Prime Minister) Netanyahu at a later date after I become President of the US," Trump said on Twitter.




Netanyahu, widely seen as a supporter of the Republican Party, shares much in common with Trump. But cozying up to the GOP presidential front-runner is fraught with risks, particularly after his controversial calls to bar Muslims from entering the US and comments to a Jewish group that some said bordered on anti-Semitism.

Late Wednesday, Netanyahu moved to contain any potential controversy, saying he rejected Trump's comments about Muslims and that Israel "respects all religions."

The prime minister did say he would meet with Trump, just as he agrees to meet any presidential candidate who visits the country, and that the meeting did not amount to an endorsement.

Trump told Fox News on Thursday that he decided to postpone the trip because he didn't want to put pressure on Netanyahu, who faced calls from Israeli politicians to call off the planned Dec. 28 meeting.

"In fact, I did a campaign ad for (Netanyahu), and he's a good man, but I didn't want to put him under pressure," Trump said.

"You know, he said, 'We have a meeting,' and he looks forward to the meeting and all of that. But I didn't want to put him under pressure, No. 1. I also did it because I'm in the midst of a very powerful campaign that's going very well and it was not that easy to do. So I would say lots of different reasons," Trump said.

A visit to Israel is considered a rite of passage for US presidential candidates as they seek to burnish their foreign policy credentials and appeal to Jewish American voters, and Netanyahu has hosted scores of candidates and elected American officials over the years.

But the visit by Trump is different, and was threatening to further increase tensions in Jerusalem as the controversial candidate announced his plans to visit the Temple Mount, a visit that would have no doubt angered the Muslim world.

The real-estate magnate and reality TV star has remained at the top of US polls for months despite increasingly contentious statements that have alienated women, Hispanics, veterans and Muslims. Trump set off an uproar by calling for a temporary ban on Muslims entering the US following last week's mass shooting by a husband-and-wife pair of Islamic militants that killed 14 people in San Bernardino, California.

Like the other Republican candidates, Trump - whose daughter, Ivanka, converted to Judaism - has long worked to portray himself as a strong supporter of Israel. In a 2013 video endorsing Netanyahu's re-election, Trump called himself a "big fan of Israel" as Hebrew lettering scrolled below his face.

During the current campaign, Trump's Republican rivals have questioned his foreign policy bona fides, suggesting he lacks the depth and diplomatic skill to tackle crises in the Mideast and elsewhere. Trump has argued his vast experience brokering business deals qualifies him to negotiate with foreign leaders, and he has cited the Israeli-Palestinian conflict as a prime example.

Yet in contrast to other Republican candidates who have been reluctant to criticize Israel, Trump questioned in an AP interview this month whether Israel was committed to the peace process, a concern he said extended to the Palestinians as well.

Though he didn't lay out specifics, Trump said he'd know within six months of taking office whether he would be able to broker a peace deal, adding that the chances for a durable resolution rest with Israel.

Trump also raised eyebrows among some American Jews last week with an extraordinary appearance at a gathering of Jewish donors, where he was booed after refusing to endorse Jerusalem as the undivided capital of Israel. The United States, like most of the international community, refuses to recognize Jerusalem as Israel's capital and says the city's status must be resolved in negotiations between Israel and the Palestinians.

In his address, Trump made several comments that some said promoted Jewish stereotypes.

"I know why you're not going to support me: you're not going to support me because I don't want your money," Trump said. "You want to control your own politician."

In another instance, he said, "I'm a negotiator, like you folks."

Meretz MK Michal Rozin on Wednesday initiated a petition urging Netanyahu to condemn Trump's "racist" comments and to cancel the meeting unless he retracts them. At least 37 lawmakers, nearly one-third of the parliament, signed the petition.

"Imagine that a country or a candidate would say entrance to Jews is forbidden. The whole world would stand up in protest, saying this is a racist anti-Semite. A racist like this has no place here among us," Issawi Frej, a fellow member of Meretz, told Israel Radio.

The Associated Press contributed to this report.