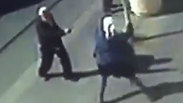 Terrorist wielding scissors
The 16-year-old Palestinian girl who carried out a stabbing attack with scissors at the Mahane Yehuda market in Jerusalem last month was charged on Friday with attempted murder and one count of possession of a knife.

The indictment, filed at the Jerusalem District Court, stated that the girl, a resident of the village Aqab, arrived at the light rail station on Jaffa Street the capital with her 14-year-old cousin.

The two girls pulled out scissors and stabbed an elderly Palestinian man from Bethlehem and another victim. A policeman at the scene shot the 14-year-old to death and wounded the 16-year-old.

According to the indictment, the day before the attack, the 14-year-old cousin expressed the desire to carry out an attack to take revenge for her brother's death in 2013. On the day of the attack, the two girls left their homes with their school bags so as not to arouse their families' suspicion.

They traveled by bus to Jerusalem and after praying at al-Aqsa mosque, they bought two pairs of scissors. They then took the light rail and got off at the Jerusalem City Hall, and started walking along Jaffa Street searching for Jews to attack.

At around 11am they left their school bags at the Mahane Yehuda station and walked away. A light rail security guard noticed this and called after them to come back and take their bags, which they did. They continued to walk along Jaffa Street, with the 14-year-old pointing at passersby and saying: "I want to kill that one."

At approximately 11:20am, they arrived at the Jerusalem District Health Bureau on Jaffa Street. The defendant's cousin went behind the bench on which Yusuf Al-Harub, a 70-year-old Palestinian man, was sitting and stabbed him in the back of his neck and in his back with scissors, intending to kill him. He fled bleeding. The two continued on their way, both wielding scissors.

A 64-year-old man came running towards the scene. The 14-year-old cousin turned toward him, raised her scissors and tried to stab him while the defendant stood beside her, lifting her scissors over her head as if making to stab those surrounding her.

David Ashur, the owner of a nearby jewelry store, rushed in the direction of the terrorist and hit her with a chair, and the defendant fell to the ground. Her cousin aimed her scissors towards A., until A. shot her with a gun he was carrying. A policeman who was passing by joined him and shot at them. The cousin was declared dead at the scene.

Palestinian sources reported that the Palestinian terrorist shot dead was Wajih Awad, a 14-year-old from the Qalandiya refugee camp. Her brother Mahmoud Wajih Awad died in December 2013, seven months after being wounded in clashes with IDF troops in the refugee camp.