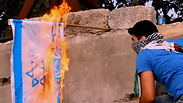 A Palestinian from East Jerusalem was indicted Sunday on eight counts of incitement to violence or terror for posting a video on Facebook calling for the stabbing of Jews.

Muhammad Abu Kaf, aged 21 of Sur Baher in East Jerusalem, uploaded a video which shows a masked Palestinian stabbing an IDF soldier along with a caption in Arabic and Hebrew (letters written backwards): "Leave our land, we are the sky's promise to you, you will die, leave our land because we are the history here, and we are the messengers of hell for you sons of Zion."

Here is a sampling of the lyrics in the video: "I stand as I burn the flag. Let the knives be planted in their chests. The revolution of al-Aqsa Intifada has began, so tell me where to run, shake the earth under the feet of the Zionists. Scatter them, stab them, let the heavens rain anger down upon the abhorrent settler. Kill them and send them to hell, run down and stab anyone who harms al-Aqsa."

The video

According to the indictment, on the day in which Rabbi Nehemia Lavi, 41, and Aharon Banita, 22, were murdered in Jerusalem's Old City, Abu Kaf posted on his Facebook account a picture of the terrorist who murdered them and another terrorist who wounded a 15-year-old boy, commenting: "Oh martyrs, you have found favor in my eyes."

The prosecution sought to extend Abu Kaf's remand until the end of legal proceedings against him.

"In light of the severity, nature, character, extent and systematic nature of his actions, their timing in such a sensitive and explosive period, and his persistence after criminial violence has been carried out time and again due to incitement, there are reasonable grounds for concern that he might threaten public safety," the prosecution said.