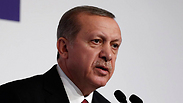 Erdogan (Photo: AP)
Photo: AP
Turkish President Recep Tayyip Erdogan has signaled a possible warming of relations with Israel, saying the entire region would have much to gain from normalized ties.

Erdogan told journalists during a flight back from Turkmenistan that "normalization with Israel" was possible if the sides can reach a compensation deal for the raid's victims and if Israel lifts a blockade against Palestinians. His words were reported by Yeni Safak newspaper on Monday.

Erdogan said: "There is so much the region could gain from such a normalization process."

Relations between former allies Turkey and Israel broke down in 2010 after an Israeli naval raid on a Gaza-bound flotilla killed nine Turkish citizens. Turkey has become the strongest critic of Israeli actions in Gaza, and reconciliation efforts between the two have repeatedly failed.



Israel and Turkey do not have currently have ambassadors in each other's countries, but lower-level diplomatic representatives. Turkish Prime Minister Recep Tayyip Erdogan has consistently made anti-Israel comments. Referring to last summer's fighting between Israel and the Islamist Hamas movement in the Gaza Strip, Erdogan said Netanyahu must "give an account for the children, women you massacred."

In response Israel's Foreign Minister Avigdor Lieberman called Erodan an "anti-Semitic, neighborhood bully."

That rhetoric was stepped up in advance of the June, 2015 election for 550 new members of the Grand National Assembly, the Turkish parliament.

"We've repeatedly seen that whenever there is an election campaign there is an increase in anti-Israel rhetoric," a senior Israeli official told The Media Line on condition of anonymity. "It's almost part of the electoral campaign, and the more anti-Israel you are, the more popular you are. That is something we can't accept."

Turkey is Israel's 7th or 8th largest trading partner. Israel exports chemicals like potash to Turkey, and imports manufactured goods and food.

In the late 1990's Israel also made extensive arms deals with Turkey for upgrading its aircraft and tanks, and even selling it drones. Those deals have been put on hold based on the tense political situation.

Turkey is currently embroiled in several conflicts involving Syria and Russia, after a Turkish jet downed a Russian bomber last month over Syria.

The Associated Press contributed to this report.