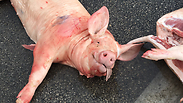 An unusual sight greeted drivers and passersby on Lehi Street in Rishon LeZion on Monday morning, as 25 pig carcasses lay strewn on the road.
Nearly a ton of pork products were spilt onto the road after the truck, which was transporting the meat from a slaughterhouse in the north to a local market, experienced a malfunction.
The scene (צילום:רומה רבשנוב, עריכה:ניתאי לב אורן)
The city's veterinary support teams were dispatched to the scene, and began collecting the pork products from the road, later sending them to be destroyed.
The products which remained on the truck were inspected by city health officials.
An initial examination revealed that the truck's rear door swung open while in transit, leading the carcasses to fall out. The cause of the malfunction was apparently a broken door joint.
Roma (18) who was at the scene said, "At 8:30 AM I saw the pigs in the road. At first I thought it was on purpose as part of some animal rights activism, because it was organized across the length of the road. It was a weird sight. People were walking by, everyone was in shock. It's not something you see every day."
A doctor with the city's veterinary services, Dr. Tomer Nissman said, "Due to the fact that the incident took place a few hundred meters from the veterinary services, we arrived at the scene quickly and began collecting the body parts. We sent the pieces to be destroyed, and sent representatives to stop work at the factory in order to make sure no products were sent back after falling on the road."