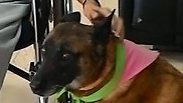 Kila is a special dog. During her years of service in the IDF's special forces canine unit Oketz, she participated in many daring rescue missions. But even after being released from the military, she still does good work. These days, Kila and her owner volunteer at an assisted living facility, putting smiles on the faces of senior citizens.

Kila, a Belgian Shepherd, was brought to Israel and to Oketz at the age of three months. As a rescue dog, she helped extract people in complex operations in the West Bank, as well as disaster areas around the world. She aided in rescuing people after natural disasters in Haiti and Turkey, and was flown to Romania after an IDF helicopter went down there. In 2008, she was retired from service.

Kila found a home with Tova Roisman, the mother of the commander with whom she served in Oketz. Today, at the age of 13.5, she takes part in a program called Petting Dogs, which is part of a project called Friends in Old Age, sponsored by the Joint and Matav organizations.

The program has dogs meet with senior citizens in order to brighten their mood. "Every Wednesday afternoon we come to the facility and visit three sections together," Roisman says. She says that Kila is now used to going between tables and wheelchairs and presenting her head to be petted.

"These days Kila is almost independent in her work. I stand there and talk, and she walks over to people who call. She's tall enough and you don't need to bend down. You can hug her, pet, kiss, comb her," she says.

However, there are still those who hold back. "Some of the seniors have hard memories from the Holocaust, and as a shepherd dog she reminds them of the dogs in the concentration camps," Roisman explains.

Kila is a giving dog. Whenever someone calls her name, she immediately comes, and when a hand is reached towards her, she understands and puts her head in the reacher's lap.

CEO of the Matav nursing agency, Lior Strassberg, said of the dog program, "Part of caring for the welfare of seniors is caring for their quality of life. The contribution of the petting dogs is certainly evident. The volunteer dogs encourage them as much as possible to move around, come out of their rooms, do their physiotherapy, go on walks. The project is also an opportunity to relieve one's loneliness and make social contact – with the dog's owner, with other tenants, and with the staff."