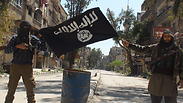 Hamas' military wing in the Gaza Strip has been transferring tens of thousands of dollars a month to the Islamic State group's Sinai branch over the past year, via one of its emissaries.

The transfer of cash is just one part of the military and strategic cooperation between the two groups. The finances of Hamas' military arm, the Izz ad-Din al-Qassam Brigades, are independent of those of the organization's political bureau.

Hamas is paying the Islamic State militants in Egypt to secure weapons shipments being smuggled through the Sinai to Gaza.

The shipments primarily consist of explosive propellant material that Hamas needs in order to make rockets. As such the money is going towards smuggling both military equipment and material needed to build Hamas' military infrastructure.

Israel's security establishment has pointed out a clear paradox in this dangerous collaboration: the bulk of Hamas' financial support comes from Iran, which is persistently fighting ISIS in Syria and Iraq. Many Iranians have already been killed on the frontline of this battle. Furthermore, the Iranians are specifically funding the Gaza front against ISIS's Sinai branch – via Hamas.

A significant amount of Hamas' military funds comes from the taxes it extracts from Gazans, primarily via commercial activities at the Kerem Shalom crossing on the border with Israel. Hamas levies a daily amount of around NIS 1.7 million in taxes from traders at the crossing. Some of this money goes towards the wages of members of Hamas' military wing, which counts around 24,000 militants among its ranks.

Egyptian security officials note that it is solely thanks to Hamas' monetary and professional support of ISIS in the Sinai that the branch has, in the last few years, turned from a gang of Bedouin with light weapons into a well-trained, well-armed group of 800 militants. ISIS in the Sinai has been doggedly fighting the Egyptian army and threatening to carry out terror attacks against Israelis close to the border.

Israeli officials believe that if the situation escalates on the Gaza front, both ISIS in the Sinai and ISIS in Gaza will aid Hamas in its fight against the IDF.

The Hamas government in Gaza also sees its connection with ISIS in the Sinai as potential leverage that could relieve some of the pressure that Egypt is putting on the Strip. ISIS is the central enabling factor in Hamas' smuggling operation through the northern Sinai, which Egypt is tackling by trying to seriously damage their tunnel network.

Egypt's efforts to completely block off Hamas' tunnels between the Sinai and Gaza remain incomplete, and their digging of water trenches to flood the tunnels is still ongoing. The smuggling tunnels remain in use - some of which are reinforced with concrete, which is supposed to help withstand the flow of water.

During their peak years, there were between 600 and 800 smuggling tunnels in operation, which makes Egypt's achievements on this front significant. Nonetheless, smuggling of commercial goods and weapons into the Strip is still taking place.

In exchange for smuggling services and cooperation with Hamas, ISIS in the Sinai receives not only money but also logistical support. For example, when the group recently had difficulties in transferring its wounded militants to Gaza for treatment, Hamas sent medical teams into the Sinai in order to attend to them there.

Hamas has also provided ISIS in the Sinai with training and sophisticated military equipment, and about half a year ago gave them an advanced Kornet anti-tank missile and launcher to use against heavy-duty Egyptian army vehicles.

Ties between the two groups' leaderships are also strengthening: Since 2015, Shadi al-Mani'i, the commander of ISIS's Sinai branch, who is wanted by the Egyptian authorities, has been staying in Gaza. He previously led another Islamist group in the Sinai, Ansar Bayt al-Maqdis, that was affiliated to Al-Qaeda and carried out several operations against Israel. Al-Mani'i was also responsible for transferring the group's allegiance from Al-Qaeda to ISIS.

Over the last year another group has been operating in the Gaza Strip – alongside Hamas – that has also sworn allegiance to ISIS, albeit with no connection to the Sinai branch. It is a Palestinian organization made up of Gazans who split off from Hamas.

There is presently an understanding between this group and its parent organization, Hamas, according to which it is currently restraining its activities against Israel. However, in light of the tightening links between jihadists in Gaza and the Sinai, it's not certain how long this restraint will last.