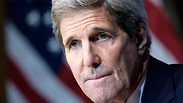 US Secretary of State John Kerry
Kerry: Building settlements and demolishing Palestinians' homes not a solution
The US Secretary of State criticizes the Israeli government in an interview with the New Yorker. Israel risks becoming 'a unitary state that is impossible to manage,' says Kerry. He also speaks about a 2010 Israel-Syria peace proposal that never came to pass.
WASHINGTON - Becoming "one big fortress" is not a way for Israelis to live, US Secretary of State John Kerry has cautioned in a new interview with the New Yorker magazine.

The interview focuses on Kerry's foreign policy towards the Middle East. He believes that Israel, with regard to the territories, is on the way to becoming a "unitary state that is impossible to manage."

Kerry is particularly concerned about the possibility of the Palestinian Authority collapsing. In such a scenario, 30,000 Palestinian policemen would become unemployed, and the chaos would likely lead to even more violent confrontations with Israel.

"I understand the passions that are behind all of this—I get it," Kerry said. "If it were easy, it would have been done a long time ago. I happen to believe there is a way forward. There's a solution. It would be good for Israel; it'd be great for the Palestinians; it'd be great for the region.

"People would make so much money. There'd be so many jobs created. There could be peace. And you would be stronger for it," Kerry insisted.

When asked if he could imagine the end of the State of Israel, Kerry responded: "No, I don't believe that's going to happen. It's just, What is it going to be like, is the question.

"Will it be a democracy? Will it be a Jewish state? Or will it be a unitary state with two systems, or some draconian treatment of Palestinians, because to let them vote would be to dilute the Jewish state? I don't know. I have no answer to that. But the problem is, neither do they. Neither do the people who are supposed to be providing answers to this," Kerry continued.

"It is not an answer to simply continue to build in the West Bank and to destroy the homes of the other folks you're trying to make peace with and pretend that that's a solution."

What Kerry didn't say is filled in by his associates off the record. In their eyes, Prime Minister Benjamin Netanyahu's actions are no deviation from the party line, because most of his ministers publicly oppose the two-state solution.

They believe that Netanyahu is short-sighted, untrustworthy, routinely lacking in courtesy towards the president and focused exclusively on the tactics of short-term diplomacy in order not to lose his right-wing support.

According to Kerry's associates, Ambassador Ron Dermer secretly organized Netanyahu's speech to Congress with John Boehner, without notifying the White House.
'Assad was ready to make peace with Israel'
In 2010, before the Arab Spring, Kerry met Syrian President Bashar Assad in Damascus a number of times at Obama's request. The US government wanted to see what kind of Syria-Israel agreement Kerry could create.

According to Kerry, Assad told him that Syria had to get back the Golan Heights as part of any peace deal with Israel. Kerry responded that in order for peace to be even a topic of discussion, Syria would have to stop all movement of weapons through Syria to Hezbollah in Lebanon and Hamas in Gaza.

"We basically sent him a message of, 'You better stop this or else,'" Kerry said. "But I also engaged with him, because he wanted to talk about another subject – a relationship with Israel in the future.

"I don't think I've ever talked about this publicly, but he was ready to make a deal with Israel. And the proof of that is a letter I still have that he wrote and signed proposing a structure by which he was ready to recognize Israel, have an embassy there, make peace, deal with the Golan, et cetera," Kerry continued.

A Syrian government representative denied that Assad had ever written such a letter, according to the New Yorker, while also denying that Assad engaged in any violent activity towards Syrian citizens in 2011.

Netanyahu was hesitant regarding the proposal with Syria, according to Kerry. "Bibi came to Washington, and one of the first things out of his mouth in the Oval Office was 'I can't do this. I'm not going to – I just can't.'"

At the time, Assad had also expressed concern to Kerry that Syria's economic isolation and rising levels of unemployment could lead to the regime being overthrown by a fundamentalist uprising.