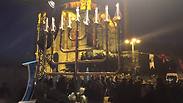 Hanukkah menorah at historic Istanbul square
Photo: Orhan Kuzir, Istanbul's Jewish community
Turkey holds first-ever public Hanukkah celebration
Jewish community members are calling it a 'Hanukkah miracle': For the first time in the country's history, Turkey's chief rabbi lights the Jewish holiday's eighth candle in a public ceremony at Istanbul's Ortaköy Square, in the presence of senior state officials and Muslim clerics.
A year to remember for Turkey's Jews: Jewish year 5776 will likely go down in history as the first time in which a public Hanukkah candle-lighting ceremony was held in the Muslim country in a state-sponsored event.

Members of the Jewish community, who have always observed the holiday traditions in their homes, almost secretly, are calling it a "Hanukkah miracle" that has joined the recent Hanukkah greetings issued by President Recep Tayyip Erdogan.

There are 12,000 Jews living in Turkey today, the majority of whom are in Istanbul. In the past 30 years, most of them have changed their names so as not to be identified as Jews for fear of harassment from the state's authorities and local Muslim citizens. Now, they hope, the era of fear is over.

The ceremony, which was initiated by the Jewish community and organized by the Beşiktaş Municipality, took place on Sunday at Istanbul's historic Ortaköy Square. Turkey's Chief Rabbi Ishak Haleva lit the eighth candle of Hanukkah, and the large audience was made up of both Jews and Muslims, including Turkish and foreign state officials and religious clerics.

Participants included officials from the Istanbul Governor's Office, Foreign Ministry and the mufti's office in Istanbul, the consul-generals of Israel, the United States and Spain and Israel, the imam of the Ortaköy Mosque, the country's rabbis and local Chabad emissaries.