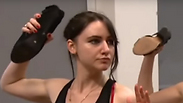 Self-defense for women - with high-heeled shoes
Krav Maga, the martial art developed in Israel, has long been adopted as a method of self-defense across the world – including by armies, police and other security forces.

Avital Zeisler, a 26-year-old Israeli from Toronto, Canada, has taken Krav Maga and given it a feminine twist – with the help of high-heeled shoes.

Self-defense with stilettos

They might not be particularly comfortable, but high-heeled shoes, Zeisler asserts, can make for effective weapons.

The "Soteria Method," as Zeisler has dubbed it, is named after the Greek goddess of safety. It is now a hit across the US and has been taken up by famous actresses such as Keri Russell ("Felicity") and Megan Boone ("The Blacklist").

Zeisler was a ballet dancer in her teenage years, but when she was 19 years old an event occurred that changed her life: she was sexually assaulted by her boyfriend at the time, sank into depression and decided to fly to Israel in order to learn Krav Maga.

Around two years ago, Zeisler worked up her unique method, which has since attracted many women.

In an interview with the New York Times, Zeisler said that her method involves self-defense and keeping fit.

So why did she choose high heels? Zeisler's explanation is quite persuasive.

"When I teach self-defense, I want to make sure it's authentic to women," she said. "The point of training in heels is that if you're wearing heels and targeted for an attack, you're equipped with a few survival strategies that can save your life."

Although there are those who may doubt the method, Zeisler insisted that it is not a gimmick and that high heels can be effective weapons. "The objective is to disrupt the attacker's thought process — even just to get him to blink," she said.

And how much does it cost to take part? A single class can cost $80. There are those who claim that this is definitely worthwhile.

"Training with Avi has given me more confidence," said Vanessa McDaniel, 33. "Walking down the street, I feel like I am better equipped to handle the catcalls or other situations I might encounter, and I have — fortunately or unfortunately, depending on how you look at it — had the opportunity to use some of what she's taught me in real life."