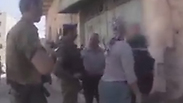 Soldiers try to separate the warring sides
A woman living in the Jewish settlement in Hebron was caught on camera assaulting a foreign human rights activist who was trying to document IDF soldiers and settlers in the city.

In a video of the incident that happened a month and a half ago, the settler, Anat Cohen, is seen confronting the human rights activist near the staircase that leads to Beit Hadassah.

Cohen tries to knock the activist's phone from her hand, and then slaps her. Two soldiers attempt to separate the warring sides, but that does not stop Cohen from striking the activist again.

The assault caught on camera

The street where the assault took place is a friction point where settlers often clash with Palestinians and foreign nationals who come there to document IDF activity.

"The incident was filmed in a place where two stabbers wounded soldiers. They hit me beforehand, I was defending myself. The video does not show her attack of me. These are anti-Semites coming from Europe," Cohen said in response.

The IDF said in response: "The soldiers separated the involved parties and stopped the friction. The handling of the incident was passed on to the Israel Police."