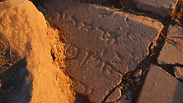 Marble tablet bearing Hebrew letters
Photo: Jenny Monroe
An archeological discovery near the Sea of Galilee may prove the presence of a Jewish settlement at the site 1,500 years ago.
The existence of an ancient settlement in the northeast Sea of Galilee became known to researchers by the early 1960s, when fragments of a large pier from the Byzantine period were found underwater. Researchers from Haifa University returned to the site last week following a drop in the water level and found a 1,500-year-old marble tablet bearing Hebrew letters – potential evidence for an ancient Jewish presence.
"This discovery bolsters the belief, which was until now considered folklore, that this is the settlement of Kursi, which Jesus visited and where he performed 'the Miracle of the Swine,'" said Professor Michal Artzy, who directed excavations at the site.
The compound in which the rare artifact was found has in recent years yielded evidence of a Christian city from the fifth century AD.
Two words have been identified on the tablet, which measures 150 by 70 centimeters: "amen" and "marmaria", a word that suggests a connection to the Virgin Mary.
Following the tablet's discovery, researchers searched for evidence of a contemporaneous settlement. They studied the New Testament, focusing on Jesus's visit to "Kursi" and "the city of Gadarenes", concluding that these were references to the newly discovered settlement.
Professor Artzy said the tablet was found at the entrance to an interior room in a structure that appeared to be a synagogue. "It consists of eight lines, and you usually don't find so many words in Hebrew letters carved in stone," she added. "The assumption is that whomever the inscription was dedicated to had enormous influence on the local people. There is no other dedication as detailed and previous among the archeological discoveries made in Israel up to now."