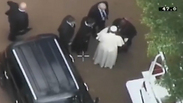 A SkyStar 180 image of the Pope in Uganda
Hundreds of millions of people across the world followed Pope Francis's historic visit to Uganda a month ago, but his hosts' fear that he would be harmed in public places led them to use an Israel-made surveillance balloon.

The balloon is routinely used by the IDF during its operations in the West Bank, the Gaza Strip and the Lebanese border.

Footage from the Pope's visit to Uganda from the Israeli-made SkyStar 180 surveillance system (עריכת וידיאו: ניתאי לב אורן)

The SkyStar 180 system is produced at the RT company factory in Yavne and has also been used for watching over civilian events in Israel this year (e.g. large shows, the gay pride march and the Ethiopian-Israeli protests). It was sent to Africa along with upgraded surveillance technology that has recently been made available for monitoring balloons.

The technology includes a new high-resolution camera, new viewing equipment and a navigation system that allows for the balloon to be controlled remotely – by day and night.

The Pope's previous visits have not resulted in any exceptional incidents, including to sensitive areas such as the Muslim Quarter in the capital of the Central African Republic, which is currently under siege.

Israeli teams traveled to Africa with surveillance equipment and guided local police teams alongside operating the balloon itself.

The SkyStar 180 is already used in 10 countries across the world, and was used by Brazil as part of its security for the 2014 World Cup as well as during the climate talks in Paris last week.

The system photographed every step of the Pope's visit, day and night and sought out potential threats while the "Pope-mobile" was on the road, as well as during speeches he delivered to large crowds.

The Israeli balloon can reach a height of 300 meters. The upgraded system can also take stable and high-quality video from higher than that, in severe weather conditions (from -35 to 60 degrees Celsius) and in a wind of 40 knots.

The system can stay airborne for 72 hours continuously, lowering to deflate every 20 minutes before rising again. It is operated by a team of just two people.

Other countries currently using the Israeli balloon include the US, Canada, Thailand, Afghanistan, Mexico and Colombia.