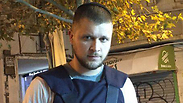 The current intifada has exacted a heavy psychological toll on Israelis
After three months of terror, survivors share fears
Over 270 Israelis have been wounded so far during three months of terror attacks, and some are struggling to readjust to life; Moshe has received psychological treatment and cries when he is reminded of the car that exploded next to him. Daniel sees the pictures, remembers the smell and is afraid to stay alone. Meir is scared of his surroundings and goes out in a bullet-proof vest.
"I'm afraid on the inside, I go out wearing a bullet-proof vest in Hebron, Kiryat Arba and even Jerusalem. The attack has made me decide things quickly, there's no time to lose."

These are the words of Meir Pavlovsky, 25, who was critically injured in a stabbing attack on October 8 at the western gate to Kiryat Arba settlement in the West Bank.

With the third month of the current wave of terror nearly at a close, Pavlovsky told Ynet that he is constantly doing everything he can to protect himself: "I don't want to die, and I don't want to find myself in that situation again."

Statistics show that since the stone-throwing attack that killed Alexander Levlovich, seen as the incident that sparked the intifada, 22 Israelis have been murdered and 276 wounded in 170 terror incidents.

On Monday, 11 people joined that list following a vehicular attack, including a 15-month-old baby.

"He stabbed me six times in my stomach and back," Pavlovsky said, recalling the attack that changed his life. "I need complicated medical treatment for my lungs, liver and intestines.

"I lost three liters of blood on the way to the hospital. I called out "Shema Yisrael" and I was scared of dying," he continued. When he arrived to the hospital he was taken straight to the operating room, only waking up the day after the attack.

Pavlovsky was hospitalized for 12 days before returning home. "The rehabilitation period was difficult, because the medicines made me lose my appetite. I didn't eat anything and I was tired every two hours.

"I'm still weak and I'm trying slowly to return to normal life, but it's very hard," Pavlovsky continued.
Sleepless nights
Warrant Officer Moshe Hen is still receiving psychological therapy. He is having difficulty falling asleep at night and when he is reminded of the attack in which he was wounded, he cries.

Hen, a traffic officer in the Samaria and Judea District Police, on October 11 thwarted a terror attack that ended in a huge fireball when a Palestinian detonated a device in her car just meters from him at the Al Zaim checkpoint.

"At first I didn't feel anything," Hen said. "Everyone came to the hospital to interview me, I received medical treatment for the burns that were all over my body, and I was on a different planet.

"After a few days I came around a little, and then I realized what had happened. Dealing with it became very difficult. It started with sleepless nights and during tough moments in which I remembered the attack and how it's a miracle I survived," Hen continued.

"Today I'm trying to get back to my full routine."

Following a two-day hospitalization, Chen was released to his home and attempted to start a new. He returned to police service relatively quickly – but he is taking a break from working out in the field. "I'm currently doing managerial work and am not out in the world," he said. "It's very difficult for me to return to roads with a flak jacket and a weapon. I'm not there yet. I know I saved many people and prevented a larger terror attack, and perhaps that's what gives me strength every day, but the price is heavy."
Constant nightmares
"I'm always seeing the images and smelling the scents that were there," said Corporal Daniel Hirush, who was critically wounded in an October 18 terror attack on the central bus station in Be'er Sheva. Hirush's heart stopped beating twice, but doctors saved his life against all odds.
Hirush is now at the beginning of a long rehabilitation process, after which he is interested in returning to military service. But for now, he says, his life has become an ongoing nightmare. "I barely sleep," he said. "By the time I fall asleep at night, I wake up from a nightmare and it takes me a long time to fall back asleep. The nights affect the mornings, and the mornings affect the days."
Since he awoke after a month of being in an artificial coma, he is afraid of staying alone for even a moment. "When I'm awake I'm always nervous and tense, and I always need people near me," said Hirush. "I avoid seeing the news or movies, I barely watch TV out of fear that something will trigger memories. I am afraid to see something that will trigger a memory. I am afraid to hear about every terror attack and for everything to surface, so I just don't listen, don't watch and don't have any interest."
Meanwhile, doctors at Hadassah Medical Center have been struggling to save the foot of a baby – a year and three months old – who suffered moderate-to-serious wounds in a Jerusalem terror attack on Monday. During the attack, a terrorist from Beit Hanina, a Palestinian neighborhood in the city, rammed into civilians waiting at a bus stop, wounding ten people besides the infant.