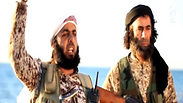 ISIS fighters threaten Saudi Arabia
The Islamic State officially declared war on Saudi Arabia on Thursday after the kingdom formed a 34-state coalition to fight against the terror organization.

In a new video released by ISIS, which purports to show another cruel execution, the jihadists warn Saudi from cooperating with the coalition of "Crusaders."

The ISIS militants also provoke the Saudis, challenging them to face the Islamic State in Syria.

The video ends with the purported execution of a man presented as a Saudi collaborator as a message to the leadership in Riyadh.

ISIS threatens Saudi Arabia

The Saudi-led coalition is expected to train and arm forces that would fight against ISIS militants, alongside cooperation in the field of intelligence.

The Arab coalition received the backing of the United State, which is leading a Western coalition fighting against the Islamic State - mostly through airstrikes in Syria and Iraq.

"Nothing is off the table," Saudi Foreign Minister Adel al-Jubeir said this week when asked if the new Islamic coalition is going to put boots on the ground in Iraq and Syria. "It depends on the requests that come, it depends on the need and it depends on the willingness of countries to provide the support necessary," al-Jubeir told reporters in Paris.

Among the countries joining Saudi in the fight against ISIS are Egypt, Qatar, the United Arab Emirates, Turkey, Malaysia, Pakistan and several Arab states. That list does not, naturally, include the Shi'ite Iran, which is already involved in the fight against ISIS in the framework of its aid to the Assad regime in Syria, but is considered a bitter rival of Saudi's.

Meanwhile, the UN Security Council unanimously adopted a US and Russian-drafted resolution that ties together existing measures targeting Islamic State's finances and offers guidance on implementation in a bid to push more countries to act.

It builds on a Security Council action in February that banned trade in antiquities from Syria, threatened sanctions on anyone buying oil from Islamic State and al Qaeda-linked Nusra Front militants and urged states to stop kidnap ransom payments.